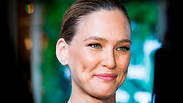 Fans who have purchased tickets to the renowned rock band Aerosmith's concert in Tel Aviv can expect to be treated to another surprise singer: Israeli supermodel Bar Refaeli.

Refaeli will ascend the stage in Yarkon Park and join the band's lead singer Steven Tyler to perform a unique rendition of one of its greatest hits, 'Crazy.'

The duet performance is not merely a social gesture, but also has roots in a recent business venture the two undertook together.

In her illustrious modeling career Refaeli became the face of famous Carolina Lemke Berlin sunglasses store and in the company's latest ad campaign, she and Tyler worked together in photo shoots last March in Los Angeles which saw pictures featuring the two together thrust onto billboards worldwide.

Aerosmith are set to perform on Wednesday night at around 8:30pm before an audience of 50,000 fans. The concert is the band's second in Israel, with the last one being in 1994.