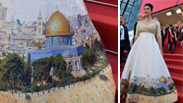 Regev at Cannes
Photo: Eli Sabati
Regev arrives at Cannes wearing dress depicting all of Jerusalem
Minister of Culture and Sport Miri Regev arrives at the prestigious Cannes Film Festival in a conceptual dress that gives tribute to Jerusalem, with religious sites such as the Dome of the Rock and the Western Wall imprinted on the front.
Culture and Sports Minister Miri Regev managed to surprise the audience at the Cannes Film Festival on Wednesday when she stood on the red carpet with a conceptual dress of Jerusalem. The dress, designed by Israeli designer Arik Aviad Herman, features familiar elements of the Israeli capital such as the Golden Dome and the Western Wall.




According to Xnet, Regev planned the dress in advance to dedicate it to Jerusalem Day, which will begin next week, and to mark the 50th anniversary of the liberation of Jerusalem in the Six-Day War. Last year, too, Regev stole the show by surprise in a black dress designed by Dror Contanto on the red carpet at the prestigious film festival.