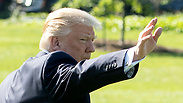 President Trump
Photo: EPA
Trump temporarily turns back on embassy move pledge
Despite repeated pledges during his election campaign, US official says that President Trump is shelving the possibility of taking the plunge for the time being, but ultimately still hopes to move the embassy at a later date; citing 'good discussions with all the parties,' official says 'we don't think it's the right time to do it right now.'
President Donald Trump will not use his upcoming trip to Israel to announce plans to move the US Embassy from Tel Aviv to Jerusalem, although he still ultimately wants to take that step, a senior administration official said on Wednesday.

The official said the Trump administration does not want to complicate attempts to resume the Israeli-Palestinian peace process by announcing the embassy move.

Such a failure to implement the move would seriously dash hopes in Israel which were raised during Trump's campaign when he repeatedly pledged to move the embassy to the "eternal capital of the Jewish state, Jerusalem."

The trip is Trump's first outing abroad as president and it will include the announcement of a US arms deal with Saudi Arabia, Saudi investment in US infrastructure and the establishment of a center to combat Islamic extremism in Riyadh, the official said.

Since taking office in January, Trump has shown signs of shelving his campaign pledge to move the embassy from Tel Aviv, while vowing to do what is necessary to clinch a Middle East peace agreement. While eager to see Trump make the move that no other president has dared to make, the Israeli government has stated that it will not seek to bend the president's arm on the matter, ostensibly out of caution not to provoke the capricious president.

The senior official, who spoke on condition of anonymity, said Trump remains committed to his campaign pledge to ultimately relocate the US embassy but does not plan to announce such a move while on his trip.

"We're having very good discussions with all parties and as long as we see that happening, then we don't intend to do anything that we think could upset those discussions," the official said.

Since both Palestinian President Mahmoud Abbas and Israeli Prime Minister Benjamin Netanyahu have expressed interest in returning to the negotiating table, "we don't think it's the right time to do it right now," the official said. "But we'll re-evaluate it down the road."

A three-way meeting between Trump, Netanyahu and Abbas is not expected during the trip.

During a trip to Saudi Arabia that begins with his arrival in Riyadh on Saturday, Trump will express support for forming a NATO-like force for the Middle East, backed by Gulf states, the official said.

Saudi Arabia has in the past proposed a stronger union with Bahrain, Kuwait, Qatar, Oman and the United Arab Emirates, but it has yet to come to fruition. Forming a joint Gulf country military alliance has been discussed for many years in the region. The idea of a joint military command center was first announced in 2012.