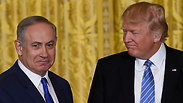 Netanyahu and Trump during their February meeting at the White House
Photo: AFP
A summit meeting between US President Donald Trump, Prime Minister Benjamin Netanyahu and Palestinian President Mahdmoud Abbas is not on the cards for Trump's visit to Israel next week, a White House official said Thursday.

Even though such a meeting is not on the agenda for the American president's upcoming visit to the region, it is included in future plans, the official said.

According to the official, Trump will use his visit on Monday to tell the Palestinians that he recognizes their right for self-definition and that they deserve to be treated with respect.

Prime Minister Netanyahu and Israel's Ambassador to the US Ron Dermer met on Thursday with Trump's envoy to the Middle East, Jason Greenblatt, to prepare for the upcoming visit.

An American official on Thursday rejected reports that Trump has already made his decision regarding moving the US Embassy from Tel Aviv to Jerusalem, saying the American president has no plans of making such a decision before his visit.