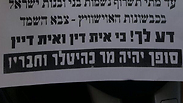 Leaflet warns of 'bitter' end
Radical Haredim warn IDF manpower head of end 'like Hitler's'
As Maj. Gen. Moti Almoz takes on position to head IDF's Manpower Directorate, radical Haredi sect crank up intensity of opposition against Conscription Law, congregating outside his home and distributing hateful leaflets warning that 'Your end will be bitter like Hitler's and his friends'; police launch investigation.
A group of extremist Haredim stepped up their incitement campaign in protest against military conscription on Friday morning when they made their way to the home of Maj. Gen. Moti Almoz—the new head of the IDF's Manpower Directorate—and distributed hostile leaflets to passersby warning that "Your end will be bitter like Hitler's and his friends."

The extremist faction of the Haredi sector have staged multiple protests in recent weeks over the draft laws in which insults drawing comparisons between policemen and Nazis have been commonplace.

However, as the radical sect cranked their invective up a gear, police immediately launched an investigation on suspicion of explicit incitement to violence and insulting a public servant.

"God will avenge the vengeance of the sons and daughters of Israel whose souls are burnt in the army of destruction by tradesman of souls, the IDF's Manpower Directorate," passersby read on the back of the leaflets.

"Moti Almoz, who sells his soul for greed: for how long will the souls of the sons and daughters of Israel be burned in the furnace of Auschwitz—the army of annihilation? Your end will be bitter like Hitler's and his friends," the threatening leaflet concluded.

The gathering outside Almoz's house came in defiance of Attorney General Avichai Mandelblit's announcement that he would soon forbid demonstrations outside the homes of public figures and senior officials.

In this vein, Police Commissioner Roni Alsheikh ordered police to no longer allow them to take place. Such demonstration have recently been staged outside Mandelblit's home and that of Bayit Yehudi leader Naftali Bennett.

In recent weeks, the levels of incitement displayed by the radical fringe Jerusalem Faction has been markedly intensified, despite the fact that most Haredim disapprove of their actions, many of whom fear their threatening behaviour unfairly tarnishes them as radicals.

Last week, for example, in Jerusalem's Mea Shearim neighborhood the radicals burnt effigies of Haredi IDF soldiers during Lag B'Omer celebratory bonfires as part of their protest against the Conscription Law.

In March, several effigies of soldiers being hanged were discovered in the same neighborhood of A sign was also attached to one of the dangling effigies demanding that Orthodox IDF soldiers leave the neighborhood.

One month prior, chaos erupted on Israel's streets when 67 Haredi protesters were arrested while they were demonstrating against the arrest of a Yeshiva student for military desertion. Three policemen sustained light injuries in what quickly escalated into riots.