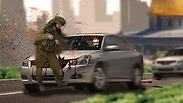 Incitement on social media
An Israeli rights group suing Facebook on behalf of families of victims killed by Palestinian attackers said on Thursday that it will appeal after the case was dismissed by a New York court.

Nitsana Darshan-Leitner said the court dismissed the lawsuit on grounds of immunity, according to the communications decency act. She said her group Shurat Hadin will appeal the decision. The group claims the social network is providing a platform for militants to spread incitement and violence.

"We believe there is a fatal mistake in their ruling because the court totally did not address the issue of aiding and abetting terrorism," she said.

"It did not address the fact that Facebook provides support and sort of services to a terror organization to Hamas, which is a violation of the anti-terrorism act and therefore Facebook cannot be immune from this," she said.

Among the plaintiffs in the lawsuit is the family of Taylor Force, a 28-year-old MBA student at Vanderbilt University and a US veteran who was visiting Israel in 2016 when he was stabbed to death by a Palestinian.

Other plaintiffs include the family of Richard Lakin, a 1960's civil rights activist in the US who marched with Martin Luther King and was a Freedom Rider, working to desegregate the South, who as an educator in Israel worked for peace and coexistence. Lakin was killed by Palestinians who attacked the bus he was riding on in Jerusalem in 2015.

And relatives of Naftali Fraenkel, an Israeli teenager who was kidnapped and killed by Hamas operatives while hitchhiking in the West Bank three years ago.

Shurat Hadin says Facebook is violating the US Anti-Terrorism Act by allowing groups such as the Islamic militant group Hamas to disseminate their messages on Facebook.

The lawsuit comes as Israel is considering how to contain Palestinian incitement on social media as it deals with a wave of Palestinian attacks against civilians and security forces.

Since September 2015, Palestinian assailants have killed 42 Israelis, two visiting Americans and a British student, mainly in stabbing, car ramming and shooting attacks. During that same time, some 245 Palestinians were killed by Israeli fire, most of whom have been identified as attackers.

"Facebook cannot sit in their ivory tower hiding behind immunity in Palo Alto while blood is spilled in the streets of Jerusalem and Tel Aviv. Facebook as social media has social responsibility," Darshan-Leitner said, adding she is confident her group will get Facebook to change their policy.

Israel blames the violence on incitement by Palestinian political and religious leaders compounded on social media sites that glorify bloodshed and encourage attacks.

Palestinians say it stems from anger over decades of Israeli rule in territory they claim for their state.