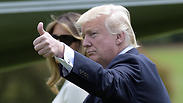 Trump peace initiative: Direct negotiations without stopping construction
Al-Hayat reports US Pres. Trump is to announce political initiative to bring Israel and Palestinians back to the negotiating table with US involvement; Saudi king Salman praises Trump: 'Your visit will bring security to the region and world.'
US President Donald Trump will soon announced a political initiative that will bring Israelis and Palestinians back to direct negotiations between a year and a year and four months without stopping settlement construction, but with curtailing it. The report was published by London-based Arabic-language daily Al-Hayat on Saturday uponspeaking to Western diplomats on the matter.

A Palestinian source meanwhile told the newspaper that during Trump's White House meeting with Palestinian President Mahmoud Abbas, Abbas had asked him to change the Paris agreements and allow the Palestinians freedom of movement, investment and activity in Area C.

Trump began his first presidential visit to the Middle East and Europe, by landing in Saudi Arabia Saturday morning. From Saudi Arabia, Trump will continue to Israel, and then visit Italy and Belgium. Joining President Trump on his trip were not only his wife Melania but two of his closest advisors—daughter Ivanka and son-in-law Jared Kushner.

Ivanka and Jared arrive in Saudi Arabia

Trump was greeted by King Salman as he and wife Melania exited the plane, who told Trump, "We welcome the US President to the Kingdom. Your visit will strengthen our strategic cooperation and bring security and stability to the region and the world."

Many social networks referred to the fact that Melania Trump did arrive in Saudi Arabia covered in black and modest clothes, though without a head covering. This is in light of criticism Trump had in January 2015 about Michelle Obama, who also arrived in Saudi Arabia without a head covering. Trump then wrote in his Twitter account that "while many applaud Mrs. Obama for her decision, the people of Saudi Arabia were insulted."

Saudi Arabia is considered the US's most important ally in the Gulf and is a big partner in its struggle against Iran.

A central goal of Trump's visit to the region is to reassure US allies, which have expressed concern over Trump's "America First" slogan. The catchphrase expresses the position that the US will focus on its own issues and reduce its involvement in overseas affairs.

In Israel, Trump will meet with Prime Minister Benjamin Netanyahu, and in Rome he will meet with Pope Franciscus. The Pope criticized Trump during the US presidential election, and Trump in response questioned the Pope's faith.

At the same time, MK Omer Bar-Lev (Zionist Union) said at a cultural event in Be'er Sheva that Prime Minister Benjamin Netanyahu "exposed sensitive intelligence to American congressmen in order to convince them to oppose the nuclear agreement with Iran."

"The slogans of the right have a price, and the price is that Trump's closest advisers are already questioning whether the Western Wall is ours," Bar-Lev said, referring to the right-wing party of Netanyahu and Bennett, "who insists that the Shuafat refugee camp is Jerusalem. In the end, we find ourselves fighting for the Western Wall. "