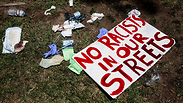 Illustration
Photo: Reuters
A New York enclave with a history of Nazi affiliation in the 1930s has agreed to change its policies that limited home ownership to people of German descent.

The German American Settlement League has settled a discrimination case brought by New York state. The enclave in Yaphank, on eastern Long Island, has agreed to replace its leadership and comply with all state and federal housing laws.

Although an attorney for the group did not respond to email requests for a comment, one board member said the community welcomes people of all ethnicities.

News accounts recall a groundswell of Nazism in the enclave in the years before the start of World War II. Streets were named after Adolf Hitler and other Nazis. Those names were changed long ago.