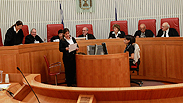 High Court of Justice
Photo: Atta Awisat
The High Court of Justice intervenes in petitions against the government much less than its critics claim, according to a new study presented on Wednesday.

The research was presented at the Academic College of Tel Aviv-Yaffo's School of Government and Society by professor Assaf Meydani of the IDC Herzliya and carried out together with the University of Haifa's professor Gad Barzilai, and the IDC's Dr. Maoz Rosenthal.

The researchers presented their preliminary findings from a quantitative study that examined the extent of the High Court's intervention in the petitions against the government in the years 1995–2016.

They chose to examine petitions from 1995 as it was the year of what has become known as the "constitutional revolution." Led by then-Supreme Court President Aharon Barak, the court held that the status of the Basic Laws was superior to that of ordinary laws and that the High Court was entitled to carry out judicial review on legislation, similarly to the US's famed Marbury v. Madison in 1803.

Israel's top court's ability to invalidate legislation that it holds to be unconstitutional is similar to the framework in Canada, France, Germany, Ireland and many other modern democracies.

Despite this, politicians in Israel frequently denounce the High Court's behavior since 1995 as "activist" and overstepping its authority.

The study examined 9,490 petitions filed against government decisions. It turns out that 87 percent of the petitions were completely rejected by the High Court of Justice. The court only sided with the petitioners 10.5 percent of the time—1,000 petitions over 20 years—and held partially against the government a further 2.5 percent of the time.

The researchers rated the 34 Supreme Court justices in the period examined by their degree of activism or conservatism. It turns out that the most "intervening" was the Dalia Dorner, who served on the court from 1994 to 2004.

Surprisingly, Barak, who is most identified with judicial activism, is only ninth. Another surprising find was that Justice Uzi Vogelman, who is considered an activist by many, is ranked eighth in the list of conservatives.

On the other side, the champion of Israeli settlers, the late Justice Edmond Levy, is on the activist side of the map. Justice Menachem Mazuz, who was portrayed as a rampant activist, rejected 96.4 percent of the petitions submitted to him.

Of the Supreme Court presidents whose terms fell in the period examined, Asher Grunis rejected 91.4 percent of petitions, Miriam Naor rejected 89.1 percent, Barak rejected 84.2 percent, and Dorit Beinisch rejected 84 percent.