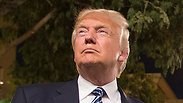 Trump in Riyadh. It's hard to see him concluding his trip with actual results
Photo: AFP
A weakened president on an impossible mission
Analysis: Donald Trump's first foreign trip as US president was supposed to be historic. Not only did he strive to present an 'ultimate' Israeli-Palestinian peace deal, but he had already achieved far-reaching understandings with the Saudis and planned to recognize Jerusalem as Israel's capital. All these grandiose plans will likely go down the drain, however, following a scandal-filled week back home.
As part of last week's White House scoop race, one of the New York Times' reports was dedicated to US President Donald Trump's sour and dark mood. According to the report, he turned against most of his aides—even the apple of his eye, his son-in-law Jared Kushner—describing them in a fury as "incompetent."

Kushner was one of the people who had urged Trump to fire FBI Director James Comey. Trump listened to him and thought he would be applauded for the move. Today, it's possible that both of them regret it.

That same Kushner is one of the central pillars in organizing the president's first trip outside the United States, a trip which Trump himself is already referring to as "historic." Trump asked his advisors and Kushner to prepare grandiose plans for him which would show the world that he is better than former President Barack Obama, and that he is succeeding where Obama failed.

At first, Trump was very eager to give a speech in Masada, a place he had first heard about from a Jewish friend in New York. In 2011, way before he became president, Trump looked into the possibility of holding the Miss Universe Pageant, which he had owned at the time, in Masada. That plan fell through, and when Trump began his preparations for the visit, he insisted that the site be put at his disposal to allow him to issue a major call for peace in the region from there. But his plan to speak there as president was called off almost as quickly as it was organized, likely due to the heavy heat.

It's no coincidence that Trump chose Saudi Arabia's capital, Riyadh, as his first stop outside America: He wanted to show his respect for the Saudis, as well as to prove that they are much more favorable towards him than towards Obama, who he often compares himself to—in a way his advisors have often described as "obsessive."

A source in the White House told Yedioth Ahronoth that Trump had already reached understandings in his conversations with the Saudis, who were ready for far-reaching reconciliation moves towards Israel in a bid to advance regional peace, subject to considerable progress in the Palestinian issue. His big plan is to create a coalition of Sunni Muslim states against the Islamic State, and in order to enlist everyone to the mission he has promised the Saudis that he will present an Israeli-Palestinian peace deal.

According to the information, the president promised the Saudis a lot of weapons, as well as an adoption of extensive parts of the Saudi initiative. In the talks between the Americans and the Saudis there were a few promises the Saudis have yet to commit to, like strengthening their relations with Israel in different fields and allowing Israeli flights over the Saudi airspace. All this, according to the plan, will lead to the point in which Trump will present the "ultimate deal" between Israel and the Palestinians, and Saudi Arabia will agree to establish diplomatic relations with Israel.

Between Trump's attempts to give his first foreign trip as president a festive and historic touch, he tried to organize an official flight of journalists to accompany him on his journey. In this case too, he was quite unsuccessful. Together with another Israeli journalist, I received all the required approvals from the White House to join the official plane. Hours before takeoff, however, the Saudis informed the White House that they would not issue a visa for the two Israeli journalists. A decade ago, when I accompanied President George W. Bush on his trip to Riyadh, the Saudis had no problem seeing an Israeli reporter on their soil. This time, the Saudis gave Trump a hard time—and at the very last minute.

And what about the embassy? As first reported by Yedioth Ahronoth about a month ago, Trump has backed away from his election promise and decided not to move the American embassy to Jerusalem for now, but he does plan to recognize Jerusalem as Israel's capital. That is about to be disrupted too, in light of the massive pressure from Saudi Arabia, Jordan and other Muslim countries. According to a source in the administration, the White House is working on a formula which will allow the president to recognize west Jerusalem as Israel's capital while leaving the east Jerusalem issue for negotiations between Israel and the Palestinians.

In the meantime, the White House has been trying to evade an issue over which there is supposed to be a consensus between Israel and the United States—the Western Wall—following the report that American diplomats refused to let Israelis tour the site with them, claiming that it was "West Bank" territory. National Security Advisor H. R. McMaster ignored the question whether the Western Wall was part of Israel twice during a press conference, and White House Press Secretary Sean Spicer went as far as saying in his briefing that the Western Wall "is clearly in Jerusalem." There's one statement that everyone agrees on, even the Palestinians.

In this state of affairs, Trump is arriving in Israel as a weakened president, who will find it difficult to pressure Prime Minister Benjamin Netanyahu. Trump caused damage to Israel when he uncovered classified information, and Israel's government sees itself as a victim now. It should receive a diplomatic cuddle, rather than a bulldozer on the head. So at least as far as Trump is concerned, it's hard to see him concluding his trip with actual results. On the day before his departure, I have learned, there were people at the White House who believed he should not have gone through with the trip at all.

"It could turn out like Bill Clinton's trip to Moscow and Northern Ireland," a veteran White House reporter told me. "He went on a peace mission, but the media kept asking him about Monica Lewinsky, because that was the affair on the agenda." What people remembered from that trip was the gloomy image of Hillary Clinton, who accompanied him against her will. When the journalists asked her how she was feeling, she nodded and said in a cracked voice: "Coping, somehow."

Trump wanted to arrive in the Middle East like a storm, with a lot of hot air, to do what his predecessors had failed to do—open a route for comprehensive regional peace. Now, with a new affair popping up at any given moment, presenting him in an even more delusional light, and with his closest associates at the White House confessing that they can't stand living in the shadow of this insanity, it is unlikely that Trump will accomplish his main mission in this trip: To establish his status as the uniting and reconciling leader of the free world. "No politician in history has been treated worse or more unfairly," Trump said on Thursday. History will judge.