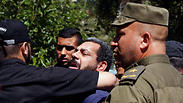 Man sentenced to death over killing of Hamas commander
Photo: Reuters
Gaza's ruling Hamas terror organization delivered death sentences on Sunday to three Palestinians it ruled had taken part in what it said was an Israeli-directed assassination of one of the Islamist group's senior commanders.


A Hamas security court said the three men had confessed to the killing of Mazen Fuqaha, a Hamas military wing commander, who was shot in the head and the chest in his car on March 24 near his Gaza home.

"The field court has sentenced the three convicted of carrying out the crime of the assassination of martyr Mazen Fuqaha to death," said Brigadier-General Naser Suleiman, chairman of the Hamas-run military judiciary.

Hamas convicted all three, aged 44, 38 and 38, of collaborating with Israel. It said that one of the men, a 38-year-old former Hamas member named Ashraf Abu Layla who was ejected over 'moral transgressions,' carried out the actual shooting and the other two had provided Israeli security agencies with information about Fuqaha's whereabouts.

The Shin Bet did not respond to a request by Reuters for comment on Hamas's allegations.

Defense Minister Avigdor Lieberman attributed the death to an internal power dispute in Hamas.

Israel jailed Fuqaha in 2003 for planning attacks against Israelis and sentenced him to nine life terms. He was released in 2011, as part of a group of more than 1,000 Palestinian prisoners whom Israel freed in exchange for captive IDF soldier Gilad Shalit.

Israeli media said that after Fuqaha's release and exile to Gaza he continued to plan attacks by Palestinian militants in the West Bank.

Palestinian and International Human Rights groups have repeatedly condemned the death penalty, and urged Hamas and the Palestinian Authority to suspend it. Palestinian law says President Mahmoud Abbas, who has no actual control over Gaza, has the final word on whether executions can be carried out.

Hamas has sentenced 109 people to death and executed more than 20 of them under its judicial system since 2007, when the group seized power from Abbas in a brief civil war.