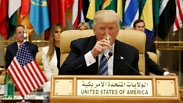 The Islamist Palestinian group that controls the Gaza Strip on Sunday rejected US President Donald Trump's linking it to terrorism and said his description of the group showed his "complete bias" towards Israel.

Trump addressed the leaders of 55 Muslim countries in Riyadh, Saudi Arabia and said they must take the lead in combating radicalization.

"The true toll of ISIS, al-Qaida, Hezbollah, Hamas, and so many others, must be counted not only in the number of dead. It must also be counted in generations of vanished dreams," the American president said in his speech.

"The statement describing Hamas as a terror group is rejected and is a distortion of our image and shows a complete bias to the Zionist occupation (Israel)," Hamas spokesman Fawzi Barhoum said in a statement.

After Trump spoke at the special conference in Riyadh, King Abdullah II of Jordan addressed the leaders. He called on the American president to work towards a solution to the Israeli-Palestinian conflict: "Mr. President, a second and equally vital challenge is a just and comprehensive settlement of the Palestinian cause, based on the two-state solution and the Arab Peace Initiative. This can bring an end to the Palestinian-Israeli conflict and guarantees peace for all Israelis, Arabs, and Muslims.

"No injustice has spread more bitter fruit than the absence of a Palestinian state. This is the core issue for our region, and it has driven radicalism and instability beyond our region and into the Muslim world."

The king added: "Safeguarding Jerusalem must be a priority. The holy city is a strategic linchpin, vital to relationships among the three monotheistic faiths. Attempts to create new negotiating facts on the ground will have a catastrophic impact."