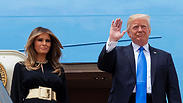 US President Donald Trump and First Lady Melania arrive in Saudi Arabia aboard Air Force One
Photo: AFP
Welcome, Mr. Donald Trump, the 45th president of the United States of America.

No, we have no golden castles with which to welcome you, like those you visited in Saudi Arabia. We have no colorful parade of camels with which to honor you. Our banks will not shower money nor will the country spill its riches unto you. Your visit will have no impact in changing American-Jewish public opinion. Whoever supported you will continue to support you; the others will continue to consider you a national disaster.

We have nothing to offer you, except what we have here: The values of human rights, basic democratic laws, and a Western observation post in the Middle East. We will not sell you missiles or aircraft carriers, and hundreds of workers from Cleveland will not be waiting for you with golden orders from this spot of the Middle East.

When it comes to public relations, or Saudi purchases, we know we've lost the war even before it began.

But the important thing to know, as the presidential aircraft's wheels touch the ground, is that in time of need we know how to stand in the front lines—and win. On that point, you can depend on us.

Welcome home, President Trump. This time it is just a short visit. We already await your next one.