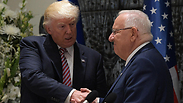 Trump and Rivlin at the President's Residence
Photo: AFP
Trump tells Rivlin: There's a great opportunity for peace
'I believe the unbreakable bond between us, along with your determination, will open up new possibilities for Israel and the entire region,' Israeli President Rivlin tells his American counterpart; 'We share the same goals and I have confidence we can achieve tremendous success together,' Trump says.
US President Donald Trump met with his Israeli counterpart President Reuven Rivlin in Jerusalem on Monday to discuss the US administration's new peace efforts in the Middle East.
"There's a great opportunity, a great feeling for peace in the Middle East," Trump told Rivlin. "People have had enough of the bloodshed."
Rivlin responded, "We want peace and we pray for peace, and with God's help, somebody will bring us peace."
The two presidents held a private meeting, following which they gave short statements to the press.
"I appreciate the opportunity to learn about your thoughts and vision," Rivlin said following their meeting. "I believe that the unshakable bond between us, along with your determination, will open up new possibilities for the State of Israel and the entire region."
He said Israel has never given up on the dream of living in peace with its neighbors. "We reached a peace agreement with our neighbors in Jordan, and with our neighbors in Egypt. But we have not yet achieved our mission of living in peace with our neighbors, the Palestinians, and with the rest of the Arab world. Our destiny—Palestinians and Jews—is to live together in this land. We must build trust and cooperation between us," the Israeli president said.
To achieve this mission, Rivlin said, "we need new ideas, new energy, that will help us move forward, together," repeatedly stressing that Israel wants to move forward.
However, he cautioned, "We must be sure we don't go to sleep with a dream and wake up with a nightmare—with Iran, ISIS and Hamas at our borders."
Rivlin added he was "happy to see America back" in the region, thanking Trump for his commitment to defeating ISIS and vowing that Israel will do everything in its power to help the US in this mission.
The Israeli president also thanked Trump for American operations in Syria, but stressed that "Further action must be considered in face of the horror that is still taking place, on the other side of our border."
Trump, meanwhile, agreed with Rivlin's assertion that Israel and the United States must stand together. "This moment in history calls for us to strengthen our cooperation as both Israel and America face constant threats from ISIS and other terrorist groups," the American president said.
"Together we can work to end the scourge of violence that has taken so many lives here in Israel and around the world," he added.
Trump said the US stands with Israel to "declare with one voice that Iran must never be allowed to possess nuclear weapons, never ever."
He thanked Rivlin and Prime Minister Benjamin Netanyahu for their commitment to achieving peace with the Palestinians and said he looked forward to discussing the peace process with Palestinian President Mahmoud Abbas.
"We have so many incredible opportunities before us and my hope is that we seize every one of them," Trump said.
"We share the same goals and I have confidence we can achieve tremendous success together, we can achieve all of our goals together," he added.
Following their public remarks, Rivlin and his wife took Trump and the first lady to the garden at the President's Residence, where an almond tree was planted to mark the visit. A sign near the tree bears a quote in Hebrew, English and Arabic from the Song of Ascents in the Book of Psalms: "Pray for the peace of Jerusalem: 'May those who love you be secure. May there be peace within your walls and security within your citadels.'"