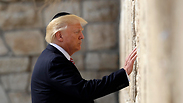 President Trump at the wall
Photo: AP
US President Donald Trump arrived at the Western Wall in Jerusalem, becoming the first sitting US president to visit the ancient site.

Wearing a kippah, President Trump arrived at the plaza, where he read several psalms and placed a handwritten note in the wall.

President Trump visits the wall

Trump's note was removed shortly after his departure in an effort to avoid a repeat of the 2008 so-called "Obama incident," when a yeshiva student took the then-presidential candidate's note and leaked it to the media, causing embarrassment.

The president signed the guest book, writing, "This was a great honor—peace!"

Trump was accompanied by his daughter Ivanka—who shed a tear at the wall—her husband Jared Kushner and Secretary of State Rex Tillerson.

Prior to his arrival at the Western Wall, Trump concluded a visit to the Church of the Holy Sepulchre. At 6:00pm local time, Trump will meet with Prime Minister Benjamin Netanyahu at the King David Hotel in Jerusalem, followed by dinner with their wives at the prime minister's official residence.