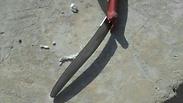 Knife used by attacker
Photo: Israel Police
Israeli police said a Palestinian attacker was killed after he tried to stab officers near Jerusalem as President Donald Trump visited the city on Monday, while clashes erupted in the West Bank as Palestinians declared a strike in solidarity with hundreds of hunger striking prisoners held in Israeli jails.

Police said the attempted stabbing occurred near Abu Dis, a Palestinian town on the outskirts of Jerusalem. The assailant was running at police officers with a knife when he was shot. Trump was visiting Jerusalem's Old City, just a few miles away, at the time.

Meanwhile, dozens of Palestinian youths clashed with Israeli troops, and Palestinian shopkeepers shuttered their stores across the West Bank and east Jerusalem on Monday in solidarity with hundreds of hunger striking prisoners held in Israeli jails.

The strike coincided with the arrival of Trump for a two-day visit to Israel and the Palestinian territories. Although the protests were not directly aimed against the president, organizers hoped to draw attention to their cause.

The heaviest violence occurred at the Qalandiya checkpoint on the outskirts of Jerusalem, where dozens of Palestinian youths set tires and garbage on fire and hurled bottles and stones at Israeli troops.

The army said troops responded with tear gas and rubber bullets. The Palestinian Health Ministry said three people were wounded by live fire, a claim denied by the military.

Protesters blocked roads elsewhere in the West Bank as the hunger strike entered its 36th day. Stores and government offices closed down, public transportation ground to a halt and main thoroughfares in Palestinian cities were empty of people and cars.

Hundreds of prisoners have joined the strike, which they say is aimed at improving their conditions, particularly allowing more family visits. Israel says the strike leader, Marwan Barghouti, is orchestrating the strike to raise his political profile.

A Palestinian advocacy group says several of the hundreds of hunger striking prisoners have been hospitalized.

The Palestinian prisoners' affairs committee called for a "day of rage" on Tuesday, when Trump visits the West Bank town Bethlehem, for "the voice of the prisoners to be heard by the president."