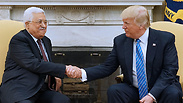 Abbas and Trump meet in Washington
Photo: AFP
Trump rebukes Palestinians: Peace can't take place where violence is rewarded
After declaring he was determined to restart peace talks between Israel and the Palestinians, the US president hopes to promote the matter with the Palestinian leadership; but a PA official says the distrust towards Netanyahu will make it hard to reach a diplomatic breakthrough.
US President Donald Trump rebuked Palestinian support for prisoners during a meeting with Mahmoud Abbas in Bethlehem on Tuesday, noting that "peace can never take root in an environment where violence is tolerated, funded and even rewarded."

"I'm comitted to trying to achieve peace, Abbas and (Israel's Prime Minister) Netanyahu are committed too," Trump told Abbas in a joint press conference after their meeting, vowing to "do everything" to reach a peace agreement.

Trump speaks in Bethlehem

"In the spirit of hope we come to Bethlehem asking God for a more peaceful, safe and far more tolerant world for all of us," the American president said, adding that he believed that if Israel and the Palestinians can make peace, it will bring peace to the entire Middle East.

Trump also extended his condolences to the victims of the

Manchester suicide bombing

that killed 22 people.

"I extend my deepest condolences to those so terribly injured in this terrorist attack, and to the many killed and the families, so many families of the victims," Trump said. "So many young, beautiful innocent people living and enjoying their lives murdered by evil losers in life."

The American president said the attack preyed on "innocent children," adding that "The terrorists and the extremists and those who give them aid and comfort must be driven out of our society forever. This wicked ideology must be obliterated, and I mean completely obliterated."

"Our society can have no tolerance for this continuation of bloodshed. We cannot stand a moment longer for the slaughter of innocent people," Trump continued.




Abbas, meanwhile, asserted that the key to peace is Palestinian freedom and independence.

He reiterated Palestinian position of accepting the two-state solution in the 1967 borders with east Jerusalem as the capital of the Palestinian state and called on Israel to recognize the state of Palestine.

Abbas speaks in Bethlehem

The Palestinian leader also claimed that "the conflict is not between religions. Respecting religions is an integral part of our faith. We want to get along with our Israeli neighbors."

He said the Palestinians "fundamental problem is with the occupation, the settlements, and Israel's failure to recognize Palestine."

"We want to build bridges instead of walls inside our lands," he stressed.

Trump was welcomed in the West Bank with an honor guard. After both the American and Palestinian national anthems being played, the US president and his Palestinian counterpart entered the Mukataa building for a meeting.

Trump arrives in Bethlehem to meet with Abbas

Abbas was optimistic ahead of the meeting, saying "I'm always realistic. Every meeting has something to it. If not, we'll meet again. It is our duty to resolve our issue."

"We've met with him (Trump) in the beginning of the month, and in Riyadh," Abbas continued. "It's very productive, we discuss our diplomatic issues with him and I hope there would be results to this visit."




A Palestinian official told Ynet that the general feeling among decision-makers in Ramallah is that there is genuine desire in the US administration to reach a deal while taking into account the Palestinians' needs.

However, the official noted, the general distrust the Palestinian leadership has towards Prime Minister Benjamin Netanyahu will make it hard to reach a diplomatic breakthrough.

Another official elaborated on the matter, saying the Palestinians don't see Netanyahu as a partner. "We won't be able to reach an agreement with him," he said.

At the current state of affairs, the Palestinians mostly hope for an economic achievement from Trump's visit.

After returning to Jerusalem, Trump will hold a half-hour visit the Yad Vashem Holocaust Museum at 1pm, where he will participate in a memorial ceremony in the Hall of Remembrance. During the ceremony, Trump will rekindle the eternal flame and lay a wreath on a stone slab under which ashes from extermination camps are buried.

The American president will be invited to sign the Yad Vashem guest book and Yad Vashem Chairman Avner Shalev will present Trump with a token of remembrance, an exact replica of the original Holocaust-era personal album that belonged to Ester Goldstein who was murdered during the Holocaust at the age of 16.

Trump and First Lady Melania will be accompanied during their visit to Yad Vashem by Shalev, as well as Prime Minister Netanyahu, his wife Sara, and Chairman of the Yad Vashem Council Rabbi Israel Meir Lau.

Trump will then head to the Israel Museum, where he will make a speech to conclude his visit at 2pm. In his speech, Trump is expected to present his vision for a peace deal between Israel and the Palestinians, and express his support to the people of Israel.

At 3:40pm, Trump will leave Israel for his next destination, Rome. He will be accompanied to the airport by Prime Minister Netanyahu and President Reuven Rivlin, but there will be no official farewell ceremony.

Elior Levy contributed to this report.