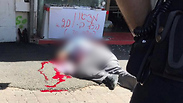 The attacker after he was shot and neutralized
A Border Police officer was stabbed in Netanya on Tuesday in what police said was likely a terror attack. He shot and neutralized his attacker.

The policeman was in light condition, while the attacker, a 45-year-old Palestinian from the Tulkarm area, was in moderate condition. Another civilian who was at the scene was lightly injured from glass shards.

Police are investigating the circumstances behind the stabbing, but initial assessments point to it being nationalistically motivated.

A witness, Doron Gabriel, said the stabber called out "Allahu Akbar" twice before attacking the police officer.

Gabriel, who owns a jewelry store on Herzl Street where the attack took place, recounted the incident.

"I saw a terrorist with a knife outside the store who came to stab me," he said. "I took a small ladder and meant to go out (and fight him). The Border Policeman shot him three times and saved me. I owe him gratitude, without him I could've been slaughtered. He cut the Border Policeman in the neck, tried to slaughter him."

The store's front window was shattered in the incident and a customer that was inside was lightly injured by glass shards, Gabriel said.

Another eye witness, Avi Mansherov, added: "The policeman had his back to the terrorist. I noticed the terrorist coming from behind, unexpectedly, jumping up with a butcher's knife and yelling 'Allahu Akbar.' He brought the knife to (the policeman's) neck and cut him. My instinct, within a second, made me pull the policeman back. I told him 'It's a terror attack, it's a terror attack.' The policeman regained his composure within seconds, drew his weapon and shot several bullets at (the terrorist's) upper body. It's fortunate this is how it ended."

In Hizma, Israeli security forces arrested earlier Tuesday a Palestinian suspected of planning to carry out an attack in Tel Aviv in the coming days.

The suspect was unarmed, but was arrested based off an intelligence tip. He was taken for questioning by the Shin Bet.