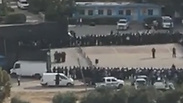 Hamas executed three men Thursday evening accused of being involved in the March assassination of Hamas commander Mazen Fukha.
Ashraf Abu Laila was hanged, while the other two other defendants were hanged and put before a firing squad, respectively. The three were sentenced to death last Sunday after a weeklong trial with no appeals.
Hamas executes three accused of assassination
The executions were carried out at a police station in the presence of hundreds of people, including Hamas officials and community leaders. Hamas recorded and broadcasted the executions live from a nearby building.
During interrogation by Hamas security forces, Abu Laila revealed that he was the one who shot Fukha in the underground parking lot of his residence, while the other two men apparently watched Fukha and tracked his movements.
Hamas issued a statement claiming that the men had acted on behalf of the Shin Bet security service and had received instructions from the organization's operatives. Furthermore, Hamas claims that the entire operation—from planning to the actual killing—took eight months.
Abu Laila, 37, was from the Nuseirat refugee camp in the central Gaza Strip. He had previously been a member of Hamas' military wing and was apparently expelled for "moral offenses." Later, it was claimed that he had joined one of the Salafi groups in the Gaza Strip and was recruited by the Mossad.
Other sources mentioned that he was a car dealer and that his brother was a senior member of the military wing of Hamas. It was also claimed that some of Abu Laila's family members work in various government institutions in Gaza that are subordinate to Hamas.
Fukha was assassinated at close range near his home in the Tel al-Hawa neighborhood of southwest Gaza City by an assassin or assassins who used weapons with a silencer. They shot him in the head with four bullets and fled. He died immediately.
After the assassination, Hamas pointed an accusing finger at Israel and claimed that it wanted to create fear among the other released prisoners who had been deported to the Gaza Strip and felt that they were protected against liquidation. In the context of the investigation, Hamas imposed a siege on Gaza and prohibited the entry and exit of any person except for exceptional humanitarian cases.
Fukha, a Hamas member from Tubas, was sentenced in 2003 to nine life terms after being convicted of sending a terrorist to carry out a suicide bombing attack. The terrorist blew himself up on an Egged bus near Safed and killed nine people. Fukha was released from prison in the Shalit deal in 2011 and due to the gravity of his actions, he was deported to the Gaza Strip.
Human Rights Watch condemned the executions in a statement.
"Rushing to put men to death based on an unreviewable decision of a special military court days after announcing their arrests and airing videoed confessions smacks of militia rule, not the rule of law," Sarah Leah Whitson, HRW's Middle East director, said.
"Reliance on confessions, in a system where coercion, torture and deprivation of detainee's rights are prevalent, and other apparent due process violations further taint the court's verdicts. Death as government-sanctioned punishment is inherently cruel and always wrong, no matter the circumstance."
(Translated and edited by Fred Goldberg)