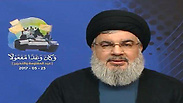 Hezbollah Secretary-General Hassan Nasrallah gave a speech Thursday referring to President Trump's recent visit to Saudi Arabia and Israel.

Nasrallah strongly criticized the recent American-Saudi arms deal signed in Riyadh, saying, "Saudi Arabia has given Trump what he has been wanting—money to be used for Israel." Nasrallah further added that the Saudi summit "ignored Palestine and Palestinian prisoners."

Nasrallah made his comments at a rally marking the 17th anniversary of the IDF's withdrawal from southern Lebanon.

Hezbollah was the topic of harsh words at the Riyadh summit, with the Saudis and the Americans calling for the organization to be disarmed. Nasrallah stressed that the statements made at the summit would not affect the internal situation within Lebanon.

"Saudi Arabia has surpassed Trump, who has insulted the Islamic and Arab nation. Saudi Arabia has surpassed the racist Trump as the biggest supporter of Israel. Saudi Arabia has given Trump something that no other US president has been given. What is behind this is Saudi Arabia's desire to defend its regime, which is already known to be behind the ideology of the terrorists."

Nasrallah also noted that despite all the measures Saudi Arabia has made in recent years, Iran's power has only grown.

"Saudi Arabia will be the one to lose as a result of her actions against Iran," said Nasrallah, who added, "The war against the resistance has been going on for a long time. Not war, nor fighting nor threats will scare the resistance. The resistance is stronger today than ever."

Nasrallah concluded his remarks by saying that the era of defeat has passed and the era of victory is arrived.

"The resistance will not evacuate the areas and battlefields until all the victories our people expect are achieved," Nasrallah proclaimed.