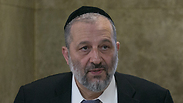 Aryeh Deri
Photo: Ohad Zwigenberg
Minister of the Interior and Chairman of Shas, Aryeh Deri, is being sought for questioning by the Israel Police's Lahav 433 Unit in connection with reports of undeclared income and assets on the part of Deri's family.

Police have already questioned associates of Deri's and will also seek to question his wife in connection with the case.

While police received permission to investigate Deri from the attorney general two months ago, investigators have been analyzing material gathered from Deri's associates and brother Shlomo since the affair began a year ago.

Deri will now be summoned by police to give his version of events.

The majority of material being analyzed by police is related to information received from the Tax Authority raising suspicions of money and assets that the Deri family is denying.

After Attorney General Avichai Mandelblit announced that the investigation against Deri was criminal in nature, Deri's office responded immediately to questions by announcing that the minister and Shas chairman would cooperate with law enforcement.