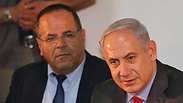 Netanyahu and Kara
Photo: Elad Gershgoren
Prime Minister Benjamin Netanyahu has appointed minister without portfolio Ayoob Kara as the new minister of communications, the Prime Minister's Office said Sunday morning.

The appointment will be brought for the approval of the cabinet at a special session to take place in the Western Wall Tunnels on Sunday in honor of Jerusalem Day.

Last February, Netanyahu appointed Minister Tzachi Hanegbi as acting minister of communications for three months following a High Court ruling that forced Netanyahu to abandon the additional portfolio.

Hanegbi's temporary appointment ended last week, prompting Netanyahu to initially offer the position to Tourism Minister Yariv Levin, who turned the appointment down despite pressure to accept.

With his acceptance of the position, Kara becomes the second Druze minister of the State of Israel. Kara previously was a minister without portfolio as well as deputy minister for the development of the Negev and Galilee.