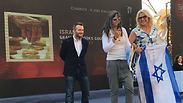 Cookbook competition in China
A cookbook composed by Holocaust survivors won two prestigious awards in the Gourmand International contest Sunday.

Grandma Cooks Gourmet, a project in which elderly Holocaust survivors collaborated with 24 leading chefs in Israel, won the third place in the prestigious category of the best cookbook in the world.

The book, a project undertaken by the Shorashim organization, also won third place in the category of The Best Non-Profit Cookbook and the Best in the World stamp by Gourmand, the world's leading cookbook competition.

Holocaust survivors' cookbook wins prizes

In the project, each elderly person created a classic dish inspired by the senior's country of origin as the accompanying chef prepared an updated and modern variation of it. The book documented the exciting encounters between the elderly and the chefs, the recipes and dishes created during meeting, as well as the personal story of the participants.

During the competition held in Yantai, China, Chairperson of the Shorashim group Tami Shachnai garnered applause when she took to the stage and raised the Israeli flag. "When people heard about the concept of the book, they shed a tear. This book has its own life," Shachnai said.

"It started as a small project that grew more like a snowball, when more and more people were exposed to it and asked to help sell, buy and distribute it in every way possible," she added.

So far, the book has sold 11,000 copies in Israel and all proceeds are allocated to finance enrichment activities for Holocaust survivors and the elderly.

The book, which was also translated into English, will soon be published in a new edition with the same prestigious stamp Best in the World awarded in the competition.