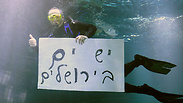 "There's a sea in Jerusalem"
Photo: Yoav Dudkevitch
Nemo finds Jerusalem: a new aquarium in the capital
The concepts of Jerusalem and sea never quite fit together, but now that's going to change: the first aquarium in Israel will open in the Biblical Zoo in the city, and Mayor Nir Barkat has already dived in, releasing the first of the vast array of fish.
The first aquarium in Israel is set to open in the Biblical Zoo in Jerusalem and will include sharks, sea turtles and thousands of fish and marine creatures. The new tank is made of 33 containers divided according to the three seas of Israel: the Mediterranean, the Red Sea and the Dead Sea.

The construction of the huge aquarium has taken four years and the complete project will enable visitors to see up close sea horses, colorful Red Sea fish, barracudas, eels, jellyfish and sharks. The vast array of sea life will come from about 20 countries, including Kenya, Indonesia, Portugal and the Netherlands. The aquarium was built with an investment of NIS 100 million, half of which was donated by the Guttman Family Foundation from New York.

The salt water will be produced at the zoo with tens of thousands of tons of salt, depending on the salinity level of the different seas. "In most of the aquariums in the world, the systems are closed and not open to the sea," explained Doron, the CEO. "The water in the sea is too polluted to put them in an aquarium with fish, so there is no use for seawater."

When the new aquarium opens, it will also serve as a tool for educational activities to raise awareness of marine pollution and environmental protection. For this reason, the jellyfish, which often wash up on Israel's shores during the summer season, will gain a prominent position. "We will respect the jellyfish," Doron promised.

"Jellyfish are some of the first creatures in the universe. Our instinct is to panic at their sight, but it is important to understand they are an inseparable part of the food chain in the Mediterranean and they're crucial in the marine ecosystem. We see a lot of marine animals like sea turtles and squids dying because they think the plastic bags are Jellyfish and eat them," the CEO explained.

Nir Barkat, the mayor of Jerusalem, arrived at the aquarium on Friday, dived in and released the first fish into its waters. "Now there is a sea in Jerusalem," Barkat said. "The huge underwater park that we have built and will soon open will provide a special attraction."