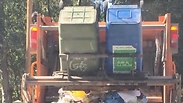 The government approved on Jerusalem Day a NIS177 million plan to connect the Arab neighborhood of east Jerusalem to orderly infrastructures, including sewage and garbage collection.

Within the plan, which was formulated by the Minister of Environmental Protection and Jerusalem Affairs Ze'ev Elkin (Likud), more east Jerusalem residents will be connected to the municipal sewage system, 33 kilometers of sewage infrastructure will be built, the existing sewage system will be upgraded, garbage cans and garbage trucks will be purchased and set up to collect waste.

The plan was discussed at a special cabinet meeting held Sunday at the Western Wall tunnels.

Large parts of the neighborhoods of east Jerusalem lack infrastructure, and houses are often built without a plan or a building permit, making it difficult to deal with and regulate environmental issues such as waste and sewage. The difficulties are accompanied by the topographical conditions of the area, and the fact that the neighborhoods were built on top of villages with poor infrastructure, which remained essentially the same as when they were annexed to the municipal boundaries of Jerusalem in 1967.

The Arab neighborhoods of Jerusalem have a population of 321,113. The Arab population below the poverty line reaches 75%, with the child population below this threshold reaching 84%. More than 37% of all households in the eastern part of the city are handled by the Social Services Ministry, with the average monthly income per capita estimated at NIS 1,900. Residents of Jerusalem's Arab neighborhoods suffer from severe housing shortages and, with it, overcrowding.

The plan references the needs of all Arab neighborhoods, inside and outside the security fence, but at this stage, it will be only be implemented in the Arab neighborhoods of Jerusalem inside the security fence. The Arab neighborhoods outside the fence, which belong to the municipal boundaries of Jerusalem, will be dealt with in a separate program.

According to the plan, the Ministry of Finance will allocate funds to the Ministry of Jerusalem Affairs and Heritage for the evacuation of the waste transit station, which is located in the Sheep Market area adjacent to the walls of the Old City, and is a source of environmental hazards.

"It is inconceivable for our capital to have a medieval sewage system," Elkin told Yedioth Ahronoth. "Those who truly believe in a united Jerusalem—it is high time they take the entire issue of east Jerusalem as a national project. I am happy that I managed to lead this natural and worthy step, which will lead to a dramatic change in sewage and waste."