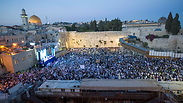 Jerusalem Day—marking the 50th anniversary of reunification of the city following an Israeli victory in the 1967 Six Day War—will be celebrated for the first time in the American Congress.

The celebration is the result of efforts made by Knesset Speaker Yuli Edelstein and Israeli Ambassador to the US, Ron Dermer. The two approached Speaker of the House Paul Ryan with the proposal, who informed the two that their initiative had been fondly accepted.

The event will take place on June 7th, the date on which the Old City was liberated.

The event, which is expected to include hundreds of congressmen and women, will be streamed by video conference to the Knesset, which will also hold an event featuring speeches by Prime Minister Benjamin Netanyahu and Edelstein.

Both Ryan and Vice President Mike Pence will speak at the event.

While the Israeli embassy hopes President Trump will participate in the celebration and even speak, the event is still significant as the two houses of parliament will simultaneously salute the capital of Israel and its liberation in the Six Day War.

Edelstein commented on the event Sunday, saying, "It is very exciting to see the House of Representatives mark the unification of Jerusalem. This signifies the strong and close friendship between the Knesset and Congress and I am convinced that these collaborations will work to the benefit of both countries."