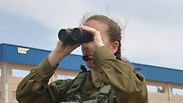 Religious women are doing it for themselves
Photo: Ofer Meir
You're in the army now, girl: more religious women enlist
Despite rabbis warning against women's enlistment into IDF,rising numbers of religious women into army reflect different stance within religious Zionism; New study even shows military service appears to strengthen religious convictions among religious women.
One of the IDF's most persistent battles in recent years has had nothing to do with security threats, but has focused instead on the recruitment of women into the IDF and the fierce opposition that rabbis in the religious and Haredi Zionist sectors have to their enlistment. A new evaluation study to be presented in the Knesset on Monday and conducted among young women who have completed either military service or National Service shows a reality contrary to the one certain rabbis warn against.

The study was conducted among hundreds of army veterans and National Service alumni by the Aluma organization, which works to promote army service among religious women. It found that young women who served in the IDF reported an increase in their level of religious convictions, more so than those who served in National Service.



In recent years, there has been a dramatic increase in the number of religious women serving in the army, from 900 female religious soldiers in 2011 to 2,400 in 2016. Religious women currently serve in the IDF in a variety of positions, and as was recently reported in Yedioth Ahronoth, a unit made up entirely of female religious combat soldiers was recently opened in the Lavi Battalion.

Despite such progress, the reality in the field is more complex for these women. The was highlighted by IDF Ombudsman Brig. Gen. (Res.) Yitzhak Brik, whose recent report found that female combat soldiers in general report lower motiviation to serve as combat soldiers and specifically to serve alongside male combat soldiers, once they end up in a combat unit and must deal with the reality that such an army service entails.

The study was headed by researcher Tal Cahana, who found that 37 percent of the religious respondents said their military service strengthened their religious identity, compared to religious respondents who served in National Service, where only 26 percent mentioned feeling stronger religious convictions following their service. In addition, 52 percent of female religious IDF soldiers said that their religious convictions did not diminish in strength during their army service.

A surprising finding that emerged from the study is that 40 percent of National Service alumni said they would recommend enlisting to the IDF to a family member, with only five percent of former soldiers saying they would not recommend enlisting to a family member.

The study also found that 87% of veterans reported receiving their families' full support after deciding to enlist. This is a seven percent increase compared to a similar study from five years earlier.

The current study's results will be presented before the Knesset on Monday as part of a special day honoring female religious soldiers, initiated by MK and retired general Elazar Stern (Yesh Atid) along with Aluma, with the participation of Defense Minister Avigdor Lieberman (Yisrael Beytenu) and IDF representatives and representation of the Defense Ministry's social-security department.

According to Aluma CEO Yifat Sela, "We meet soldiers on a daily basis, so the results of this study didn't surprise us." Sela added that it is apparent that military service significantly affects and strengthens young religious women's faith far more than National Service does.

The data and upcoming Knesset discussion are aiming to answer recent claims made by rabbis and other religious and Haredi Zionist leaders, who have stated that many young religious women leave religious life as a result of army service. The contentious Yigal Levinstein, who serves as rabbi to the Eli paramilitary academy, went as far saying that the IDF completely strips religious women of their Judaism.

"They go in Jewish and are come out not Jewish. Their entire value system changes, their priorities, the home, careers, it makes everyone crazy. We cannot agree to this," said Levinstein. He even wondered "Who will marry them?"

Lieberman responded to Levinstein's comments by saying he will reconsider his continued position in Eli. He added that "Since the founding of the state, women have served in the IDF and made a tremendous contribution to the security of Israel. Rabbi Levinstein's tirade is not only an insult to Israeli women, but also to the IDF and its heritage and to the basic values of the State of Israel."

Stern, for his part, noted that recruitment rates of religious Zionist women have gone up by hundreds of percents. "This is the real reason for celebration of religious Zionism," he said. It should also be mentioned that in the past, religious women more religious women continue to officer's course than their percentage in the general population.

Stern said he believes that the increase in enlistment is actually a direct result of efforts of certain religious elements within religious Zionism to denigrate and harm these women, as a kind retaliation by the women themselves. For now, it appears that religious women have the upper hand: generally speaking, they receive the broad support of their families and their surroundings, which recognize not only of their contribution to Israel's security but also of their contribution to religious Zionist society.