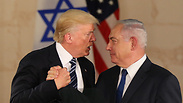 Trump and Netanyahu
Photo: Alex Kolomoisky
Netanyahu says Trump issued no 'blank check' to Israel
Speaking during a Likud party meeting on Monday afternoon, the Israeli premier insists that while relations were warm between the US and Israel, Jerusalem did not have carte blanche to act in any way it pleased; acknowledges 'great understanding' of Israel's position by the US, but urges Likud members act 'diligently and responsibly.'
Prime Minister Benjamin Netanyahu informed his Likud faction Monday afternoon during a party meeting that US President Donald Trump's recent visit to Israel had not resulted in the US granting of a "blank check in regards to our policies."

"We are a sovereign nation and can decide and declare a lot of things," Netanyahu continued. "It is true that relations are warm and that there is a great understanding of our position, but a blank check? That is far from reality."

In that vein, the prime minister urged his party members to act responsibly, apparently so as to avoid rocking what appear to be stable relations.

"That is why we are required to act with great diligence and with responsibility—We need this especially now," he warned his listeners.

"You heard President Trump. He came here, did extremely important things and touched us deeply, but he also said that he believes that Abu Mazen (Mahmoud Abbas) wants peace, and that I want peace. He also said that he believes that it is possible and necessary to arrive at an agreement," he reminded the Likud members.

Netanyahu also touched on a factor which he has repeatedly attributed to the inability of the two warring parties to come to a peace agreement, which Donald Trump has often referred to as "the ultimate deal."

"There is one fundamental thing that I always say: The reason there is no agreement is because they (the Palestinians) educate their children, generation after generation, that there will not be a State of Israel in any borders whatsoever," he said.

"That is why, the only way to ensure our future is to have control over security. That is our position and it has been stated in the clearest fashion. There is still, I would unambiguously say, a desire and even attempts to reach an agreement on the belief that the Palestinians are not ready to give up on their desire to destroy the State of Israel in stages, on a piecemeal basis, over time," he stated.

However, he indicated that he remained committed to pursuing peace regardless of the Palestinians' long-term goals to erase Israel from the map.

"That isn't important. I am telling you this because we need to deal with this. I have to deal with this."

Regarding the security assistance agreement with the Americans, the prime minister added: "We received extra security assistance in the amount of NIS 300 million. According to the security agreement with the US, if Congress approves extra sums to the budget and also the government approves it, there is no need to pay it back."

Last September, Israel and the US signed the terms of a new $38 billion aid package for Israel during a State Department ceremony shortly before Barack Obama left the White House as president.