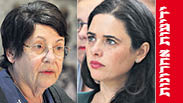 A harsh confrontation and a constitutional crisis has taken place between Supreme Court President Miriam Naor and Justice Minister Ayelet Shaked against the backdrop of the latter's refusal to officially announce the appointment of Esther Hayut as the next Supreme Court president.

As revealed by Yedioth Ahronoth, Minister Shaked refused to state that the meeting of the Judicial Selection Committee on July 18 will also include the election of Justice Esther Hayut as its next president.

following Shaked's refusal, President Naor sent a harsh letter to the minister. "I do not see justification for postponing the committee meeting," Naor wrote. "Postponement breeds concern of disrupting the deployment of the next president and unnecessarily harming the judicial system and the public. In particular, I do not see justification to postpone when there is no apparent reason for this. It seems that the only reason for the postponement of the committee meeting is that we have not been able to reach an agreement regarding the identity of the two judges to be chosen in place of Justices Danziger and Shoham."

In response, Minister Shaked wrote: "Your letter seeks to elect the next president of the Supreme Court more than a hundred days before your retirement, without any necessity at this time and before a substantive discussion is held."

Naor also noted that it is possible the Justice Minister is using her legal authority to determine the agenda of the selection committee improperly, and that it may be possible to file a petition against Shaked's actions in the High Court of Justice.

According to the law, the agenda must be published 45 days in advance, that is, until May 29. Shaked conditioned the publication of the agenda on the election of two additional judges to join the Supreme Court instead of the retiring judges.

Last week, it became clear that the members of the selection committee, Finance Minister Moshe Kahlon and the Chairman of the Israel Bar Association Effi Naveh, were signaling their support for electing Hayut. At the Bar Association conference in Eilat, Naveh called Hayut "the intended president." Kahlon also made it clear that he would not lend a hand to abolishing the seniority system according to which the most veteran judge is elected to the Supreme Court.

In order to elect the Supreme Court's president, it is possible to make do with a simple majority out of the nine members of the Judicial Selection Committee. Such a majority has seemingly already been reached, with three Supreme Court justices, two representatives of the Israel Bar Association and Minister Kahlon looking to vote for Hayut.