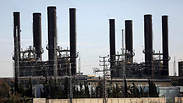 Power cuts in Gaza
Photo: AP
Palestinian power struggle threatens further Gaza power cuts
When Gaza's 2 million residents break their fast during Ramadan, much of the territory is engulfed by darkness; In a veiled warning that Gaza-Israel tensions might flare up again, Hamas spokesman says that in the event of further power cuts, 'no one can ensure the (current) relative stability' of the region.
When Gaza's 2 million residents break their dawn-to-dusk fast during the Muslim holy month of Ramadan, much of the territory is engulfed by darkness and homes have to rely on generators or batteries for the post-sundown family meals.

Rolling power cuts, a mainstay of life in a decade of Hamas rule in the blockaded Gaza Strip, have never been worse.

Power is only on for four hours at a time, followed by 14 to 18 hours of outage—and the blackouts could grow even longer amid an escalating struggle for dominance between the Islamic militant Hamas and its West Bank-based rival, the Palestinian Authority of internationally backed President Mahmoud Abbas.

Abbas, whose government pays Israel for the electricity, has stepped up financial pressure on Hamas in recent weeks by threatening to reduce its funding in hopes of forcing his rivals to cede ground.


But in a new twist, Israel's energy minister said he would block any additional electricity cuts until further review. Yuval Steinitz argued that Israel should not be drawn into an internal Palestinian problem, a decision that also effectively shields Hamas, Israel's enemy, against Abbas.

Gaza's residents have adapted to worsening hardships with ingenuity and stoicism.

In some apartment buildings, residents have pooled resources to buy communal generators. Most Gazans buy food daily because they can no longer use refrigerators. Formerly routine activities such as showering or running a washing machine are done at odd hours, when power is on.

Gaza City resident Raed Ashour, 31, said he believes the situation is allowed to fester, in part, because people are afraid to speak out. The security forces of the authoritarian Hamas quickly quelled a rare mass protest over the power cuts in January.

"Now we are entering the second or third month of four hours of electricity, yet there is no sign of public protest," said Ashour, a pharmacist. "It's a political problem."

Gaza resident Wissam Helo, 35, said his pregnant wife cannot leave their 13th floor apartment when power is out because she cannot climb the stairs to get back home. "We are with the president," he said, meaning Abbas, when asked whom he backs in the power struggle.

He said he did not want to say more for fear of repercussions.

Gaza hasn't had full-time electricity in more than a decade, largely because of the international isolation of Hamas. Israel and Egypt, which border the coastal strip, imposed a blockade on the territory after Hamas' takeover in 2007. Since 2008, Israel and Hamas have fought three cross-border wars.

Since April, Gaza's power crisis worsened, in part because of Abbas' new strategy. After years of failed reconciliation efforts, he began cutting back Gaza support payments to pressure Hamas. The group says it will not yield.

Gaza's sole power plant stopped working in April, after it ran out of fuel that had partially been paid for by Qatar and Turkey, one-time regional backers whose support appears to have cooled off.

Hamas could not afford to buy new fuel, leaving Gaza with 10 power lines from Israel as the main source of electricity—about 30 percent of the territory's needs.

The Israeli electricity is funded by the Abbas government at a cost of about $11 million a month. The monthly payment is deducted by Israel from customs and tax reimbursements it collects on behalf of the Palestinian Authority every month.

In May, the Palestinian Authority informed COGAT, a branch of the Israeli Defense Ministry that deals with Palestinian affairs, that it would only cover up to $7 million of the monthly electricity bill. In response, the head of COGAT, Maj. Gen. Yoav Mordechai, said last week that electricity in Gaza would have to be scaled back further.

This elicited a sharp response from Steinitz, the energy minister.

In a letter published by the Israeli media last week, Steinitz wrote to Mordechai that "we should be the ones to decide where to cut electricity," sarcastically suggesting the Abbas headquarters in Ramallah as a starting point. Israel should "not become a pawn in their hands," Steinitz wrote to Mordechai, referring to the Palestinians.

The minister's office said Steinitz will seek a broader review of the issue.

Israel may be concerned the international community could blame it for further deterioration of conditions in Gaza. There are also fears that more instability in Gaza could lead to renewed rocket fire by militants.

In a veiled warning that Gaza-Israel tensions might flare up again, Hamas spokesman Salah Bardaweel said on Tuesday that in the event of further power cuts, "no one can ensure the (current) relative stability" of the region.

Last week, the UN coordinator for the region, Nickolay Mladenov, said Israel, Hamas and the Abbas government "all have obligations for the welfare of Gaza's residents."

Speaking from Jerusalem to the UN Security Council, Mladenov warned of a "humanitarian crisis" if power is cut further.