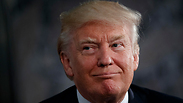 Trump in Jerusalem
Photo: AP
Report: Trump to sign temp. waiver to leave US Embassy in TLV
US Pres. Trump expected to renew order suspending transfer of US Embassy to Jerusalem; The temporary order has been signed by every US president since '99; An official stresses that even 'If he signs the wavier this week, that will not be indicative of him reversing his opinion, it will just be a question of timing.'
US President Donald Trump is expected to sign a standing waiver suspending the transfer of the US embassy from Tel Aviv to Jerusalem. US government officials told CNN on Wednesday. Trump's statements regarding the transfer of the US Embassy to Jerusalem led to heavy pressure on him by the Arab states to avoid the move.

During his election campaign, Trump promised to move the embassy to Jerusalem, which the Israeli government has warmly encouraged. According to a senior US administration official, Trump still supports the move but believes that now that there is a chance for peace between Israelis and Palestinians, it is best not to arouse anger among the Palestinians. Last month, Russia broke with its own londstanding policy and recognized west Jerusalem as the capital of Israel.




In 1995, the US Congress approved the Embassy Act in Jerusalem, which recognizes the city as the capital of Israel and determines that the embassy should be transferred to it until 1999. Since 1999, though, all US presidents—namely Clinton, Bush and Obama—have used their authority to delay implementation of the law, citing reasons of national security. Each president signed a waiver to postpone the move for six months, which is the same waiver that Trump is said to be about to sign.

At present, the Trump administration has not made an official decision on the subject, though Trump has presented position papers on discussing leaving the embassy in Tel Aviv, alongside the possibility of transferring it to Jerusalem.

Transferring the embassy to Jerusalem is still "something the President supports, something he supported during the campaign, something he still supports," one source said. "If he signs the wavier this week, that will not be indicative of him reversing his opinion, it will just be a question of timing. It will be when, not if."