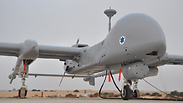 IAI Heron TP
Photo: IDF Spokesperson's Unit
The German High Court in Dusseldorf rejected a petition Wednesday filed by US defense contractor General Atomics (GA-ASI) against Israel Aerospace Industries (IAI) for the production of drones for the German Air Force. The value of the tender—which IAI has now secured—is worth an estimated $652 million.

The saga began when German Minister of Defense Ursula von der Leyen had announced at the beginning of the year that IAI's Heron TP drone had overtaken the GA-ASI Reaper for use by German armed forces.

The American company refused to acknowledge the defeat and appealed the decision twice. Wednesday's rejection by the court in Dusseldorf was the final appeal the company mounted against IAI.

Von der Leyen justified the decision by saying that Germany needed an armed UAV capable of protecting soldiers in conflict areas around the world. Additionally, she said the Germans were in need of a capable drone immediately, as a European-produced UAV with similar capabilities would only be available in 2025.

Currently, Germany is successfully operating more than ten Heron-1 drones around the world, including in Afghanistan.

The Heron TP, which will be leased to the Germans in cooperation with Airbus, is one of the largest drones in the world. The aircraft has a 26-meter wingspan and can stay in the air for more than 24 hours. Additionally, it has a carrying capacity of several tons.

To date, the drone has been purchased only by the Israel Air Force (IAI), under which it serves as the "Eitan." Germany will become the first foreign operator.

IAI is expected to complete negotiations with the German government soon, where the deal will then be subject to final approval by Germany's parliament.