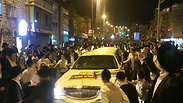 Police investigate calls to 'kill female soldiers' by radical Haredim
Radical Jerusalem Faction suspected of being behind hanging of posters around Mea Shearim urging ultra-Orthodox yeshiva students forcefully drafted into the IDF to use their weapons to 'kill female soldiers, commanders and recruiters'; IDF spokesman says new level of incitement to murder 'crosses a red line.'
The Israel Police has launched an investigation into posters put up Wednesday calling on ultra-Orthodox yeshiva students required to draft into the IDF to "murder female soldiers" with the rifles they receive in the military.

"As for the draft decree, the decree of annihilation. Drafting boys and girls—die and do not transgress," was written on the placards that were displayed around the ultra-Orthodox Jerusalem neighborhood of Mea Shearim.

The poster's content signals a significant escalation in the levels of incitement, which thus far has already been characterized by assaulting Haredi soldiers, protests and burning effigies of ultra-Orthodox soldiers.

"Dear yeshiva student. If they take you by force to the army of destruction, you are permitted and must do all of the following things," it states before listing murderous instructions.

"Take the rifle you have received, kill every female soldier next to you and give her the privilege of killing her rather than letting her transgress. Kill every commander who keeps you by force, kill every recruiter, his seducer and accomplice. Kill yourself out of a decree to not transgress."

The authenticity of the inciting message is still not known but the police have said that upon discovering their distribution around the IDF-hostile neighborhood, they immediately turned to the State Attorney's Office to seek permission for opening an investigation into incitement to violence.

"With the approval to open an investigation due to the seriousness of the things that were written and publicized, Jerusalem's local commander instructed the central unit to launch an investigation," a police statement said.

The statement also noted that "The police did not receive any request to approve the Jerusalem Faction conference which is planned to take place on Thursday in Jerusalem in the area belonging to the municipality.

The Jerusalem Faction is a fringe group of Haredi radicals whose tactics and outlook have been rejected by the mainstream ultra-Orthodox community.

In addition, the IDF's new chief spokesman Brig. Gen. Ronen Manlis wrote on social media, condemning the latest intensification in the minority sect's incitment tactics.

"The call for the killing of soldiers and commanders in the IDF is serious incitement and crosses a red line," Manlis wrote. "The IDF will continue to carry out its missions and obligations for the security of the State of Israel and its citizens and to implement mandatory conscription without fear or trepidation."