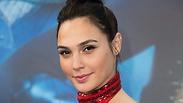 Gadot at the Los Angeles premiere of 'Wonder Woman'
Photo: AFP
Gal Gadot: I often stop and say to myself, 'Wow, it's real'
The Israeli actress is having her moment, as 'Wonder Woman' hits the big screen and with the whole world talking about her first leading role in a Hollywood film. In an interview with Yedioth Ahronoth, she reveals how she manages to lead a normal life despite becoming an international star and explains why seeing her giant image in Times Square isn't that exciting.
LOS ANGELES—It's too early in the morning outside Warner Bros. Studios, but as a city which has built its reputation on impersonation, everyone around me is smiling, energetic and satisfied like in the opening number of La La Land. Soon, if I'm not careful, someone might break into a song and a step dance right next to me.

I try to understand if it's the Botox that has put everyone's smile on pause, but why be petty. If you can't beat them, according to a famous LA saying which I just made up, simply try to fake it like with them.

A frantic producer directs the convoy of journalists to the coffee stand—a polite name for a high-calorie buffet comprised of everything that will destroy your diet: Sweet pastries, salty pastries, trans fats. A journalist on a full stomach, every novice publicist knows, is a more generous journalist. The first "Wonder Woman" press conference is being held here today. Seventy-six years after she was born in comic books, the iconic superhero has finally made it to the big screen as a leading character.

It's hard to miss the bustle around us. This is probably Warner Studios and DC Comics' most important film, certainly this summer. More than $150 million were invested in the movie and some of the most famous names in Hollywood were enlisted. It was produced by Zack Snyder, who directed Batman v Superman; directed by Patty Jenkins, whose film Monster won Charlize Theron an Oscar; and alongside stars like Chris Pine, Robin Wright and Danny Huston, all eyes are on one particular person. Her name is Gal Gadot, and the last time we met, about two years ago, she didn't have such a huge entourage trailing behind her.

I scroll through my last correspondence with Gadot, after that interview was published. When she wrote, "Thank you very much," I replied that we would conduct the next interview in LA. She immediately texted back: "It's a deal." Well, it turns out that Gadot is not just a superhero, but also a woman who keeps her word.

I stand outside the studio, under a Wonder Woman parasol, nibbling on a Wonder Woman-shaped muffin, licking a lollypop shaped as Wonder Woman's sword, and waiting for Gadot, along with dozens of other journalists from all over the world. You see, I must find out how the most famous woman in Hollywood feels right now, with a poster of her the size of a department store spread across Times Square.

The answer arrives earlier than expected. One of the publicists updates me that Gadot will be interviewed standing up. Her back, it turns out, couldn't take the burden and is making it difficult for her to sit down. Since last week, she has been giving all her important interviews standing up. "If I had time," she will tell me later once we're alone, "I would have gone to a chiropractor a long time ago, but you can see where I'm at."

The publicist leads me to Gadot through a huge compound built especially for the film's promotion. It's a merchandise monster with a million photos—and I'm not exaggerating—of Gadot. I don't know a lot about the craze, but for the first time I think I'm starting to understand how people lose it in Hollywood. If the past two years were not enough, the past week has given Gadot a good reason to be joyful: After two years of teasing, the film was finally screened to journalists and fans, and although the "media embargo" had yet to be lifted, the viewers were permitted to share what they thought about Wonder Woman's performance.

"It had humor and heart," wrote IndieWire's film editor, Kate Erbland. The Collider website's editor-in-chief, Steve Weintraub, was happy to report that "'Wonder Woman' is a blast and Gal Gadot is fantastic. Her chemistry with Chris Pine is magnetic." Courtney Howard, another film critic, added: "Exciting, powerful, bold, epic, simply wonderful and—best of all—absolutely empowering." Mark Ryan, senior entertainment writer at Uproxx, tweeted: "She reminds me of Christopher Reeve's Superman: True north superhero with no angst or cynicism, which is needed right now."

I sit in front of the spot where Gadot is giving her interviews and watch her for a long time. Her relaxed body language fails to disclose whether she even realizes what is going on around her, whether she understands the extent of the madness.

The last time I interviewed her, Gadot was just informed that she had won the role and was about to start shooting Batman v Superman. I asked her at the time if she understood the magnitude of the achievement, and she shook her head and said: "I don't think you can understand it in real time. I'm living by delay; come interview me a year from now, and then I'll tell you if understood it or not."

So I came.

"I'm still processing this experience," she laughs. "I'm starting to understand. It's funny, because since being cast as Wonder Woman I've had almost three years to let it sink in. Because it was such a closed, secret project, in which we moved from one film to another—from 'Batman v Superman' to 'Wonder Woman' to 'Justice League'—I feel that it is only from this point in time that I should be given time to process everything. I assume that in two years' time, I'll understand what I went through. We are just starting to share this film with the world. Up until now, we were only working on it. Up until now, it was just the preview. We cooked this thing, we worked on it, we cleaned and polished it for this moment."

When was the last time you pinched yourself and said, 'I can't believe this is really happening?'

"Every day, every morning. In recent days, with the reviews published last week, I have been pinching myself a lot. I don't have blue marks on my hand yet, but I often stop and say to myself: 'Wow, it's real.'

"It's a surreal feeling. I don't really think you can digest it. I said to my husband, Yaron: 'One the one hand, I feel that I'm here, that I'm completely present, that I understand what's going on and that I'm really excited when people talk about the film. But on the other hand, I'm numb. It's like, wait a second, is this really happening?'"

Yes, it really is happening.

"On a personal level, at the end of the day I go back home, with my back strain, to my two daughters and my husband. And if I'm lucky, at the end of the day I also have time left for a chiropractor. Do you understand the beauty in this? It's the contradictions of life that give you the balance."

I don't want to put more pressure on your back, but aren't you stressed out by the fact that a film that's largely carried by you is about to be released?

"I'm not even thinking about it."

So am I the first person who tells you that?

"Yes! Totally!" she laughs. "Thanks a lot for coming all the way from Israel to tell me that. You could have brought hummus, but an anxiety attack?! Seriously, you're not stressing me out. I'm really not thinking about it. Films are something that comes and goes. Now we're around that, so it's clear that it's big and powerful, around this character, but the truth is that I just hope people go to this film and like it."

Still, you're the face of the film. All eyes are on you.

"Are you really trying to give me an anxiety attack?"

So have I watched too much of 'Entourage'? This pressure before a film debut doesn't actually exist?

"I haven't watched the whole 'Entourage' series. But look, films that I participated in have been released before. Granted, it wasn't in the same magnitude as Wonder Woman, but they were big and I was part of them. Always, before any new film was released, I was told: 'Look, everything is going to change.' And then later, 'Now! Wait, wait, now everything is going to change.' It's always the same in the end."
No small talk
One never gets tired of telling the story of Gadot's rise to the top: The good girl from Rosh Ha'ayin, who actually thought of becoming a lawyer, became Miss Israel, found herself in a key role among the macho gang of the Fast and the Furious, searched for her place in Hollywood, and a moment before giving up, was cast as Wonder Woman in DC Comics' ambitious project—first alongside Batman and Superman, at present in a huge summer film without a single second on screen without her, and later this year in another film in the series alongside Ben Affleck and Henry Cavill—"Justice League."

She may have turned down the chance to become a James Bond girl in the 2006 film, "Quantum of Solace," but at the moment Gal Gadot is not just the most courted It Girl in the world, she is also the most encouraging lesson for every Israeli who wants to try his or her luck in this tough business: Don't listen to other people's advice; listen to yourself.

"Even at the beginning, when I was told that in order to move up I would have to do all kinds of things—meet people, attend events—I always did it my way, which is learning the text, doing the best audition possible, and that's it. No parties, no mingling and no imploring. I don't have time for that, and I don't like to engage in small talk either. It's exhausting. In the past two years, I have only been working."

Nevertheless, what have you had to deal with in the past year?

"In the time that passed between 'Batman v Superman' and the beginning of the filming of Wonder Woman, I really felt like a frightened little girl who is looking at Mount Everest and has no idea what to do. It was as if I was telling myself, 'They're about to realize the bluff. How are they giving me this role now, putting it on my shoulders?!'"

And how did you calm this voice?

"I just gave everything I had. It put everything I am capable of giving on the plate."

And it's noticeable. The film's director, Patty Jenkins, compliments Gadot's on her professional skills as much as she praises her human skills: "Gal is the perfect Wonder Woman from many aspects. I believe that the spirit of the actor you choose for the film in the most important overall. If the actor fails to understand the spirit of the project, it won't work.

"We needed someone who could play the role of Wonder Woman on the big screen, but we got someone who plays the role on and off-screen. We got someone whose instincts are similar to those of the character she plays. She really is courteous and enduring, but she's no sucker. She isn't gentle and fragile. She understands very well what is going on around her, and she's funny and pleasant as well. She calmed me down many times and knew how to deal with me when I arrived on the set nervous."
An improved amazon
"Wonder Woman" certainly justifies all the superlatives attached to it. It's enjoyable, fascinating and funny, and Gadot lives up to the huge expectations that were placed on her when she was pulled out of her relative anonymity straight into the top league of Hollywood. Without the superhero agonies we have become accustomed to in recent years, but with a lot of great action scenes, Gadot manages to create a strong, charismatic and graceful character.

The guys at DC Comics have a good reason to be satisfied. After a series of terrible reviews on "Batman v Superman" and "Suicide Squad," it seems Gadot has not only nailed it with an incredible role, but has also succeeded in breaking the spell. The film's creators are now hoping that the audience will feel the same way and turn Wonder Woman not only into the first woman superhero in the world, but also into a blockbuster.

There is no better time than now, therefore, for a short discussion on feminism: is the male audience, which grew up on Superman and other heroes in tights, ready for a woman superhero? Are they even willing to let a woman save them? Can a superhero in a minimalist suit and a shiny lasso manage to do what Hillary Clinton failed to do to the feminist glass ceiling?

Gadot is thrilled by the chance to formulate a clear statement on strong femininity, but even she gets slightly confused when one of the foreign film reporters asks if she realizes that she is about to become a role model for many young men and women.

"It's not that I want to be a role model," she replies, embarrassed. "But if I have the possibility to do it, then I'm glad to have this important opportunity. I think it's insane that this character has been around for more than 75 years and we have never seen her origin story on the big screen. When boys grow up, they have Superman and Batman and Spiderman and others to admire. Until today, however, we have not had a strong female character to look up to. It's so important to finally have such a character. And not just for girls, but also for boys. Everyone is talking about more women in politics. You can't advance women without educating about it.

"When we just approached the script, we thought, okay, everyone's afraid of the word 'feminism.' It's a concept that evokes a lot of emotions and antagonism. I see girlfriends of mine who say, 'I'm a chauvinist.' What do you mean you're a chauvinist, stupid?! We're here because there were feminists before us who fought for us, so that we would be able to work and vote and take the pill.

"I think there is a great misunderstanding over what it actually means to be a feminist. Feminism is the freedom to be who you want to be, equal to any other person. And that's what Wonder Woman represents in the film. We were so afraid to portray her as a character who castrates men, or as someone who is so cold because she is so strong. It's the exact opposite. She is so strong because she is so warm. Her protest is not the protest of a woman who shouts, 'I'm a woman, I'm allowed to vote.' She simply walks into a diplomats' meeting and asks—naively, but very sensibly too: 'Excuse me, I don't understand. Why can't I be here?' We wanted to show just how much she fails to understand the problem."

So do men trust women to save them?

"That's a question you have to ask the men."

The role required a lot of preparations. Gadot says she read two whole cases of books and comic books about Wonder Woman. The filming took a year and a half and was preceded by five months of intensive training around the clock—hitting the gym, martial arts training and horseback riding—but Gadot is not one to complain.

Even when comic book fans all over the world complained about the size of her breasts, Gadot was unfazed. "People were very upset about my boobs. They are not 'Wonder Woman boobs', apparently," she said in a recent interview. "Wonder Woman is an amazon. I should only have one boob, so they are lucky they are getting two small boobs."

In general, Gadot refuses to make a fuss over the criticism and the difficulties she experienced before and during the shooting. "Even when things were difficult, we did it. After all, I didn't go to work in a coal mine. I went to work in something that really excited me. It was a wonderful adventure and I had all the support from the people who matter to me—my husband and family and the people I worked with."
Double the excitement
In the past two years, she has been dividing her life between Tel Aviv and Los Angeles. She is married to Yaron Varsano, a businessman, and they have two daughters, Alma and Maya. In fact, Wonder Woman's birth in the cinemas comes just two months after Gadot gave birth to her younger daughter.

"It's like two births! Totally! That's why I broke my back. Do you know what it's like to give birth to Wonder Woman?" Gadot laughs. "It's definitely double the excitement. I'm at the height of my excitement over my little one and at the height of my excitement about the film. I'm very excited these days. I'm experience an overdose of excitement."

In the new universe Gadot is sailing, there is no room for spontaneity. She reveals that she was already five months pregnant when she shot Justice League.

"It was planned," she says. "I wanted to get pregnant for a long time. I couldn't because of the projects. I knew that this film would come out and that I would have to promote it, so it was impossible to do it at that time. We planned it in the right intervals. We didn't have too much of a choice, but we were lucky."

In our previous interview, you talked about your feelings of guilt over the amount of time you get to see Alma. Is this something that has softened with your second child?

"The feelings of guilt exist, but on the other hand, Alma has grown up and everything's okay. With a second child, it becomes somewhat easier. You already understand what's significant and what's less significant. It's mostly fun. In general, with the second child you're much cooler. I've never been the hysterical type, but I'm still much calmer than I was the first time around. I'm no longer stressed out by every little thing.

"With the second baby, it's not the same experience as it was with the first one, when everything revolved around them. With a second child, you have to take care of the elder one, because they're the one who experiences the shock. The baby doesn't understand where they are yet. A lot of the coping with the second child is offering support and love to the eldest child, but it's worth it."

Does Alma understand what's going on around her?

"What's going on around her?"

That her mom is Wonder Woman.

"She's pretty indifferent towards it, and we're trying to keep it that way. I don't think it's important or that it really matters to her that the film is coming out now or whether there's some kind of excitement around me. So yes, she knows that the film is being released, and she understands that I'm very excited, and she knows that' why I'm not home as much and why I'm working more now. But she's only five, so she doesn't understand the meaning, and I want to keep I that way. It's healthier. Her routine is more important to me."

So one day she'll find out that her mother hid the fact that she's Wonder Woman from her?

'

"She knows I'm Wonder Woman. I don't hide it. She spent a lot of time with me on the set, both in 'Batman v Superman' and in 'Wonder Woman', and even in 'Justice League.' But she's completely indifferent towards it. As far as she's concerned, it's mommy's job."

Mommy's work is now taking her around the world. That's not always easy for a little girl.

"She really likes it. Overall, this is the life she was born into, this is what she knows. It's not new to her. Yaron and I always say that we're like a travelling circus, but we travel together and the family is where we are, and we make sure to work together. Yaron and I are now working together, producing and developing things together, and it's an exciting challenge. I feel that what we're doing is so unique, and we are the fixed variable. The sets change, the houses change, the language changes, but we're there together. I really feel like it's his success too. Now, when the embargo was lifted and the reviews were published, I was at home with Yaron. We were drinking wine and he shared my excitement. I looked at the two of us from the side and it was such a joint victory. This project took a lot from all of us, as a family, as a couple and individually. We all enlisted to this thing together."

Will you stay in LA now?

"For now, we're here. There is a home both here and in Israel."

You don't want to commit to a move?

"Israel is always my home, but I have a family life too, and at the moment we have more stuff to do here. I miss my family and friends very much. I find the distance difficult, but during such a busy period, when everything is happening so fast, at least the yearning doesn't distress me. But I definitely miss them."
See you at the Oscars?
Like everything in the past month, this day of interviews also began very early for Gadot, 6 am at the latest—and no one can tell when it will end. Interviews, photo shoots, hair and makeup, and an amazing ability to answer questions for 14 hours standing up! The same questions, more or less, one after the other: "How did you prepare for the role?" "What did you know about Wonder Woman before?" as well as "What are you wearing? It's looks stunning."

Every other person would look as if they were involved in a work accident, but Gadot always looks as if her day has just begun. She is courteous to every journalist who comes over to flatter her. She is grateful without a hint of cynicism.

Despite the explicit ban on taking photos with the actors, I try my luck. Gadot's publicist, who is standing next to her with a stopwatch, isn't very happy with my attempt to grab her for a selfie like Knesset Member Oren Hazan did to US President Donald Trump, but Gadot immediately agrees.

Have Israeli filmmakers essentially lost their chance to work with you?

"Absolutely not. If the role is good, I'd be happy to do it. I'm being asked a lot now if I would like to play roles in Israel, and I always say: 'Of course.' It's really weird that I barely played three roles in Israel before I started working here. It's unlike anything else, when you can act in your own language. Why, are you writing an interesting movie?"

Yes, but now that you're an international star, scripts are being sorted for you. What chance do I have?

"That's true, but with a good script we can talk about it."

You've said in the past that your mother made sure to tell you when you just became famous: 'Don't let it go to your head. It's just work.' I can see that you're very strict about it.

"Certainly. It mustn't go to the head. And most importantly, what will go to the head?"

Have you seen yourself all over Times Square?

"So what? When the film is no longer screened, someone else's picture will be up there. So I'm enjoying it for as long as I can, as much as I can, and yallah, next. I'm already thinking about the next thing."

The last time we spoke, we agreed to meet in LA. Can we agree to hold our next interview at the Oscars?

"Wow, I wish. I don't know, but it could be nice."