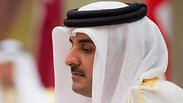 Qatar reportedly requires Hamas members to leave the capital
Lebanese media claims that prominent Hamas figures received a list of members who must leave Doha; reportedly included are individuals responsible for coordination with the Hamas leadership in the West Bank; Qatar is allegedly acting due to 'external pressures.'
Diplomatic sources told the Lebanese Al Mayadeen network that Qatar had given Hamas a list of names of movement members who were required to leave the Qatari capital, Doha. According to the sources, the list includes mainly Hamas members who are responsible for coordinating with the organization's leadership in the West Bank.

It was also claimed that a Qatari envoy had met with prominent Hamas figures to deliver the list. The envoy expressed his hope in the meeting that senior Hamas members of the organization inside the country will be the ones that will deal with the West Bank instead of the senior members of the movement abroad.


The Lebanese report hinted at Israeli involvement in the matter. The envoy, according to the report, explained that he regretted the move made because of "external pressures." In addition, the diplomatic source claimed that this is a preliminary list of names that includes persons who came up in prisoner interrogations in Israeli jails.

Less than a fortnight ago, US President Donald Trump, during his first visit abroad to Saudi Arabia, lumped Hamas together with other terrorist organizations. "The true toll of ISIS, al-Qaida, Hezbollah, Hamas, and so many others, must be counted not only in the number of dead. It must also be counted in generations of vanished dreams," the president said.

Hamas was quick to disagree. "The statement describing Hamas as a terror group is rejected and is a distortion of our image and shows a complete bias to the Zionist occupation (Israel)," Hamas spokesman Fawzi Barhoum said in a statement.

One of the people who lives in Qatar is Khaled Mashaal, head of the Hamas political bureau. Al Mayadeen did not specify which individuals were required to leave Qatar.