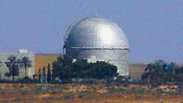 The Dimona nuclear reactor
Photo: Getty ImageBank
Following a report by the New York Times on Sunday, claiming that Israel had achieved nuclear capabilities by the Six-Day War in 1967, and was planning to set off a nuclear bomb in the Sinai Peninsula to deter the Egyptians, the Israeli researcher whose work the Times piece was partially based on came out to refute these claims.

The New York Times' initial reporting stated that then-Brig. Gen. Yitzhak "Yisha" Yaakov said as much to Prof. Avner Cohen and Prof. Ronen Bergman as part of a Yedioth Ahronoth article. Speaking to Ynet later Sunday, Prof. Cohen came out against the Times piece, saying that Israel, in fact, was not planning to activate a nuclear bomb in the Sinai Peninsula during the Six-Day War in 1967, since at the time it did not have nuclear capabilities.

"It was so natural," the Times quoted Yaakov as saying. "You've got an enemy, and he says he's going to throw you to the sea. You believe him.

"How can you stop him? You scare him. If you've got something you can scare him with, you scare him."

The Times cited Yaakov, who passed away four years ago, as saying that the plan to bomb Egypt was called the Samson Option, and that it would be used as a last resort. He added that were it to have been used, the nuclear blast might have ended up killing him and his commando team.

Yaakov quoted then-IDF Operations Directorate Maj. Gen. Ezer Weizman as saying that Egypt was going to attack the southern city of Dimona, which is next to Israel's nuclear reactor.

"It has long been known that Israel, fearful for its existence, rushed to complete its first atomic device on the eve of the Arab-Israeli war. But the planned demonstration remained secret in a country where it is taboo to discuss even half-century-old nuclear plans, and where fears persist that Iran will eventually obtain a nuclear weapon, despite its deal with world powers," the Times wrote, adding that "Shimon Peres, the former Israeli president and prime minister who died last year, hinted at the plan's existence in his memoirs."

However, Prof. Cohen, who in addition to interviewing Yaakov has authored a nuclear history of Israel called Israel and the Bomb, strongly objected to the New York Times piece. In an interview with Ynet, Cohen stated it was wrong for the Times article to have relied on Yaakov's 32-year-old memory. "He describes events as he saw them from his own personal point of you. Does it accurately fit with the overall, objective and the historical truth? It's hard to tell. I had a lot of questions about this," said Cohen.

So as opposed to what most people think, Israel actually didn't have an atom bomb back then.

"First of all, that's true; Israel was working day and night to give the top echelon, meaning the Prime Minister (Levi Eshkol—ed), some sort of option, which shows that this project had some gravitas," said Cohen. "We were trying to wildly improvise something that no one was one hundred percent sure was going to work. They ended up creating this thing called the Spider, a nuclear detonation system that needed to be connected to a nuclear core to be set up at another location."

Cohen noted that "More conceptually than practically speaking, Brig. Gen. Yaakov tried to offer a plan that would bring it to fruition. He himself wasn't sure it would really work."

So you're saying there was still a long way to go to achieve such a device (at the time)?

Cohen seemed to concur. "The New York Times piece is based on a very long interview of mine with Yicha (Yaakov), an analysis of this interview and other piece published here in the US. Yicha felt the need to tell this, because he thought it no longer held any operational or intelligence importance. It should also be noted that between May 25th and 27th, 1967, there was a very morose atmosphere in Israel. There was a feeling that Dimona and the Israeli Air Force bases could be under attack."

Was Egypt planning to attack Dimona?

"We're not one hundred percent sure about that, but based on Israel's estimation at the time—or rather (IDF chief of staff Yitzhak) Rabin's, (Military Intelligence Directorate Aharon) Ahrale Yariv's and Ezer Weizman's, Dimona was indeed considered a target."

On May 16, 1967, two days after the beginning of the Egyptian military began bolstering their forces along the border with Israel. IDF chief of staff Rabin said at the time that Egypt might be targeting Dimona.

The next day, Rabin and Military Intelligence Directorate Head Yariv informed the Israeli Security Cabinet that Egyptian MiG-21 jet flew over Dimona after entering Israeli airspace at a high altitude from Jordan, and that the Air Force planes had been dispatched to intercept them, but failed to do so due to the short warning time and MiGs' high altitude. The IAF planes were not allowed to cross the border into Sinai.

Rabin then told Cabinet ministers that IAF Mirage planes tried to intercept them on their return to Sinai, but failed. The incident completely changed the atmosphere at the ministerial meeting.

Rabin also asked to speak with Prime Minister Eshkol together with Maj. Gen. Weizman, and then proceeded to brief Eshkol on information received by Israeli intelligence, about "a strange and worrisome message regarding the cooperation between fighter planes and bombers." Rabin added that this could be related to a possible Egyptian air strike on Dimona, with Weizman adding that all the indications show that Egypt plans to attack Dimona with at least 40 jets, perhaps that very night.

Eshkol then returned to the Cabinet meeting, but did not reveal all the information he had received to the ministers. Instead, he told them that the information about the air incident would be passed on to the Americans, without telling them that the Egyptian jets had happened over Dimona. Decades later, Minister Moshe Carmel, a member of the cabinet at the time, described the ministers' "shock" after discovering that a "flock" of Egyptian planes had passed over Dimona.

Prof. Cohen estimates that Egypt did indeed plan to carry out an air strike on the morning of May 27, with its main targets being Israeli Air Force bases and possibly Dimona. According to several testimonies of senior Egyptian officials, an airstrike order was given and then canceled; Egyptian President Gamal Abdel Nasser was forced to cancel the plan at the last minute, after a direct threat from US President Lyndon Johnson, who called such an attack "suicide," in addition to Nasser receiving a similar warning from the Soviets.