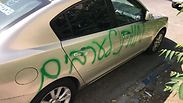 Graffiti saying 'Death to Arabs'
Photo: Israel Police
Unknown perpetrators vandalized five cars belonging to Arab residents in east Jerusalem early Monday, slashing tires and spraying "Death to Arabs" on the vehicles.

Police launched an investigation into the price tag incidents, reported both in the French Hill neighborhood and near the hotels on Bar-Lev Boulevard, which connects the neighborhood to Highway 1.

One of the graffiti writings said, "Revenge. Binyamin Richter says hello." Richter was released from prison last week after having served three years for vehicular arson.

One of the owners of the vandalized vehicles, Amir Abu Hamed, posted pictures of the damage to his Facebook page but wrote he and his friends have no intention of filing a complaint as they have no faith in the police.

"When I go to the supermarket at 3am in the French Hill, police officers stop me and ask me where I'm going at such an hour. But a pure Jew with a kippah on his head can wander around without police asking him where he's from or where he's going," Abu Hamed wrote. "We're tired of this. It's 2017. I feel like throwing up and mostly escape this shitty place."

Gadi Gvaryahu, the head of anti-racism group Tag Meir, said, "This is the fifth price tag attack in the last month. We expect the police to stop the wave of attacks against innocent Arabs as soon as possible."

Elisha Ben-Kimon contributed to this report.