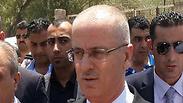 Hamdallah
Photo: Elior Levy
Palestinian PM to Kahlon: 'You prevented a third intifada'
Palestinian PM Hamdallah tells Finance Min. Kahlon that Israel's decision not to punish Palestinian population during last year's wave of terrorism prevented another intifada; sources say Palestinian Pres. Abbas's meeting with US Pres. Trump was 'one of the best he had with any US president.'
During a meeting with Finance Moshe Kahlon held last week, Palestinian Prime Minister Rami Hamdallah said that Israel's decision not to respond to last year's wave of terrorism by issuing further sanctions against the Palestinian population prevented a third intifada.

In addition, terrorist group turned political party has found itself in a hot water, as the three Palestinians it had recently executed on suspicion of killing Hamas operative Mazen Fukha were reported to have not been behind the attack. Hamas, which never recognized Hamdallah's prime ministership, is also facing pressure from Gazan residents for the lowering of electricity supply, with the average currently at four hours a day.

"You surprised us with the way you handled and treated a subject, in a way that managed to separate the escalation and not punishing the general Palestinian population. (By doing so—ed), you prevented a third intifada," Hamdallah told Kahlon.

It should be noted that those who led and supported this policy, which was not considered popular at the times, were the high-ranking officials in Israel's defense systems.

During the meeting, Hamdallah also referred to reports in Israel that the meeting between Palestinian President Mahmoud Abbas and US President Donald Trump in Bethlehem was difficult, saying that the Palestinian side was surprised by that the meeting was presented as negative. Several sources familiar with the meeting criticized the way it was presented in Israel, saying that the meeting was one of Abbas's best meetings with any American president. Those sources confirmed that the meeting was a relatively difficult part, but that it was small compared to the entire meeting, and that there was someone who decided to leak only this part, thereby creating a false representation of the nature of the entire meeting.

Abbas is currently on a roll. He confirmed the US's support last week, after Trump decided not to transfer the US embassy to Jerusalem, at least for the time being. He expressed willingness to meet with Prime Minister Benjamin Netanyahu without preconditions, and he also shows a willingness to reopen negotiations with Israel. The Palestinian leadership does not want to be perceived as a uncooperative, and therefore did not respond negatively to any American request regarding attempts to restart the political process.

Ramallah, at this stage, is playing the waiting game, but at the same time, senior Palestinian officials fear that the Americans are pushing too hard to advance the political process without studying the overall picture. In addition, Ramallah is once again strengthening relations with Arab countries such as Egypt, Jordan and Saudi Arabia, after months of a presumed cold front.

The main obstacle facing the Palestinian Authority is the challenge of the prisoners' strike initiated by Marwan Barghouti, which began to displease Abbas as it gained Barghouti public support. In fact, one of the reasons why thousands did not take to the streets and confront security forces in support of the prisoners' hunger strike was the intense work of the Palestinian security forces to suppress any public protest. In the meantime, the strike ended with a feeble response; however, contrary to what senior Israeli officials claim, the Palestinian prisoners quietly managed to obtain additional benefits for themselves, beyond their second monthly visit. These benefits were not made public, with Israel continuing to deny them, but they are a fact, though one that both sides have an interest keeping under wraps.

Due to the fortification of his status, Abbas decided to enter a collision course with Hamas in the hope that Gaza would blink first. This began with the decision not to allow diesel fuel to reach the Gaza power plant as long as Hamas—which collects money on electricity from the residents—does not pay the Palestinian Authority taxes for it. This continued in an announcement to Israel that the Palestinian Authority would stop paying the electricity that enters the Gaza Strip every month from June onwards (Israel has yet to announce whether it will continue to supply Gaza with electricity, free of charge).

Another move came on Sunday, when the PA did not deposit monthly salaries in the bank accounts of 300 released prisoners identified with Hamas, including prisoners released in the Shalit deal. Abbas's line of thinking is simple: I'm not Hamas's ATM. If they want services, they'll have to transfer control back to the Palestinian Authority. And if they don't transfer control, they will have to fend for themselves.

There are those who have rejoiced due to the tangle Hamas has entered, but in recent weeks Gaza has shown truly worrying signs, the likes of which have not been seen there since right before Operation Protective Edge. If a month and a half ago an average Gazan got eight hours of electricity a day, today they get only four, and if Israel stops the flow they will receive only three hours of electricity a day. Water supply to homes has decreased and comes less frequently now, and wastewater is discharged into the sea due to an inability to treat them in the absence of electricity. The escalation before Protective Edge began to take place because of an internal civil crisis that threatened to break Hamas apart from the inside, which caused the organization to direct the fire to Israel. Hamas is not eager to fight now, but if the internal crisis worsens and the public cries out, it is possible that the organization will again turn the pressure onto Israel through a deliberate military escalation.

As if this were not enough, the assassination of senior Hamas official Mazen Fukha set Hamas into a tailspin. Two months later, the organization announced that it had managed to get its hands on the assassins. After a flash trial, they were executed, about a week and a half ago. However, according to sources familiar with the affair, the three Palestinians who were executed have nothing to do with the Fukha's killing, despite Hamas's claims. Though it is possible that the three were collaborators with Israel, as they admitted themselves, they apparently were not involved in the assassination. So who did kill Fukha? We may never know for sure.