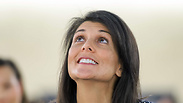 Haley in Geneva to address the Human Rights Council
Photo: AFP
The Trump administration gave formal notice on Tuesday that it is reviewing its participation in the UN Human Rights Council and called for reforming the body to eliminate its "chronic anti-Israel bias."
"The United States is looking carefully at this Council and our participation in it. We see some areas for significant strengthening," Nikki Haley, US ambassador to the United Nations, told the Geneva forum in her first address.
She also called for the Council to address serious human rights violations in Venezuela and for the government of President Nicolas Maduro to give up its seat in the 47-member UN forum unless it gets its "house in order."
Nikki Haley speaks at the UN Human Rights Council (צילום: רויטרס)
Haley, who holds cabinet rank in President Donald Trump's administration, said last week Washington would decide on whether to withdraw from the Council after its three-week session in Geneva ends this month.
The Council's critical stance of Israel has been a major sticking point for its ally the United States. Washington boycotted the body for three years under President George W. Bush before rejoining under Barack Obama in 2009.
Haley, writing in the Washington Post at the weekend, called for the Council to "end its practice of wrongly singling out Israel for criticism."
The possibility of a US withdrawal has raised alarm bells among Western allies and activists.
Eight groups, including Freedom House and the Jacob Blaustein Institute, wrote to Haley in May saying a withdrawal would be counterproductive since it could lead to the Council "unfairly targeting Israel to an even greater degree."
In the letter, seen by Reuters, the groups also said that during the period of the US boycott, the Council's performance suffered "both with respect to addressing the world's worst violators and with respect to its anti-Israel bias."
The Council has no powers other than to rebuke governments it deems as violating human rights and to order investigations but plays an important role in international diplomacy.
"When the council passes more than 70 resolutions against Israel, a country with a strong human rights record, and just seven resolutions against Iran, a country with an abysmal human rights record, you know something is seriously wrong," wrote Haley.
John Fisher, Geneva director of the US-based Human Rights Watch, did not appear to fear an immediate withdrawal.
"Our understanding is that it is going to be a message of engagement and reform," Fisher told reporters.
However, Fisher said Israel's human rights record did warrant Council scrutiny, but the special focus was "a reasonable concern."
"It is an anomaly that there is a dedicated agenda item in a way that there isn't for North Korea or Syria or anything else," he said.
Earlier, the UN Human Rights Commissioner, Zeid Ra'ad al-Hussein, called for an end to Israel's "occupation of Palestinian territory," saying Israeli rule "has denied the Palestinians many of their most fundamental freedoms, and has often been brutal in the way it has been realized; an occupation whose violations of international law have been systematic, and have been condemned time and again by virtually all states."