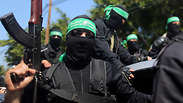 Saudi Arabia: 'Qatar must stop supporting Hamas'
In light of the sharp diplomatic crisis in the Gulf, the Saudi foreign minister declares 'Qatar is undermining the Palestinians and Egypt with support for the Muslim Brotherhood and Hamas'; he makes it clear that ending support for terrorism is a critical step in trying to resolve the crisis.
Saudi Minister of Foreign Affairs Adel al-Jubeir said on Tuesday, "Qatar must stop supporting Hamas." This was against the background of the deepening crisis in the Gulf, in which six countries, led by Saudi Arabia and Egypt, isolated the Qatari emirates.

"Enough is enough," said the Saudi ambassador to Paris and made it clear that ending support for terrorist organizations is a critical step on the part of Qatar to restore relations between the two countries.

"We have decided to take steps to make it clear that enough is enough," Jubeier told reporters in Paris. "No one wants to hurt Qatar, but it must decide whether it is going in one direction or the other, and I hope that the cost of the economic damage that will be caused to Qatar will convince it to go in the right direction and stop supporting organizations like the Muslim Brotherhood and Hamas."

Jubeir added that Qatar was actually undermining the Palestinian Authority and Egypt by supporting these organizations and the "hostile media"—apparently referring to the Al-Jazeera network.

French President Emmanuel Macron spoke on the phone with the emir of Qatar, saying that stability in the Gulf must be maintained and that he supports any initiative to try to reconcile the huge crisis between the emirate and its Arab neighbors. He added that France would be willing to mediate between the parties.

At the same time, Kuwaiti Emir Sabah Al-Ahmad Al-Jaber Al-Sabah arrived in Jeddah to meet with the King of Saudi Arabia and try to advance a solution to the crisis with Qatar. Kuwait managed to resolve a similar dispute about three years ago, and before his arrival in Jeddah, he also discussed the issue with his Qatari counterpart in the hope that he would not take steps that could lead to escalation.

Earlier in the day, US President Donald Trump referred to the deepening diplomatic crisis between Qatar and the Gulf states, which appeared to be an expression of support for Saudi Arabia and its members. "During my last trip to the Middle East, I said there could be no more funding for an extremist ideology. Leaders pointed to Qatar—look!" tweeted Trump.