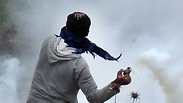 A Palestinian throwing rocks
Photo: AP
Israeli soldiers opened fire at Palestinians who were throwing stones near the border fence in the Gaza Strip on Tuesday, killing one man and wounding seven others, residents and hospital officials said.

An Israeli military spokeswoman said dozens of Palestinians had gathered at the fence and were trying to damage it. Soldiers on the Israeli side of the border fired warning shots in the air after their calls to halt were ignored.




Residents of Gaza, which is run by the Islamic militant group Hamas (considered by Israel, the US, EU, UK and others to be a terrorist organization) said the protesters were throwing stones near the fence when the Israeli troops shot at them. Hospital officials in Gaza said a 25-year-old man was killed.

The Israeli spokeswoman said the military was looking into reports of a Palestinian fatality.

At least 248 Palestinians and one Jordanian citizen have been killed since a wave of sporadic violence began in 2015 in Israel and the Palestinian Territories.

Israel pulled out of Gaza in 2005. The Palestinians hope to to establish an independent state including Gaza, the West Bank and east Jerusalem, territories Israel captured in 1967 during the Six-Day War.

An Israeli panel approved plans on Tuesday for the first new Jewish settlement in the West Bank in two decades, drawing Palestinian condemnation and defying repeated international appeals to avoid such measures.