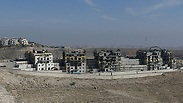 Netanyahu doubles down on settlements
The prime minister promises to protect the settlement enterprise and build in all parts of the West Bank, both inside settlements and outside; comments come as minister of housing and construction proposes plan for 67,000 apartments in West Bank to combat high prices in the Tel Aviv metropolitan area.
Prime Minister Benjamin Netanyahu has iterated his support for the settlement enterprise, saying, "I have the right, after decades, to be the first prime minister to build a new community in Judea and Samaria."

Speaking at a ceremony Tuesday commemorating the Six Day War and settlement in the West Bank, Netanyahu referred to the two most pressing issues for settlers—the building taking place today and the possibility that they could be evacuated from their homes as part of an agreement with the Palestinians.

"No one will be uprooted from their home, I'm doing everything to protect the settlement enterprise," said Netanyahu, adding, "We decided to build in all parts of Judea and Samaria and we are building both inside and outside the settlements."

Netanyahu's statements on building inside and outside of settlements echo a plan put forward by Minister of Housing and Construction, Yoav Galant (Kulanu), who proposed 67,000 apartments in the West Bank in order to deal with the real estate crisis in the Tel Aviv metropolitan area.

A call by the settler leadership for massive construction in the West Bank in response to the real estate crisis in the center of the country is nothing new, but the plan presented Tuesday in the Knesset was put together in cooperation with Galant, who was thoroughly involved in planning the details.

As part of the plan, the Yesha Council commissioned a panel of experts to map out the total amount of vacant land available for construction in the area between Karnei Shomron in the north, through the city of Ariel and up to Modi'in.

The panel ultimately determined that the western area of the West Bank could immediately accommodate the construction of some 67,000 housing units, in which no less than 340,000 people could live.

The new plan claims that the target price for a four-room apartment in the same area will be NIS 1.2 million.

Proponents of the plan hope the construction in the "eastern Dan region" will lead to a drop in demand and price in the "real" Dan region.