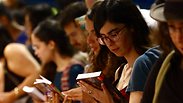 Book Week fair
Photo: Dana Kopel
The 56th annual Hebrew Book Week will begin on Wednesday evening with book fairs planned in Tel Aviv, Jerusalem and Rishon Lezion.

For ten days, thousands of books, both old and new titles, will be offered at discounted prices at the fairs as well as in book stores across the country. In addition, cultural events are for all ages will be held in public libraries and at the fairs.

"This is the 56th year of the Hebrew Book Week, which has accompanied us through good and bad times and is an important part of the Israeli experience. We call on the general public to show their support by coming to the fairs, which will offer literary variety, cultural wealth, enjoyment and tradition," said Amnon Ben-Shmuel, the director of the Book Publishers Association.

For the first time this year, Jerusalem will host both the Hebrew Book Week fair and the International Book Fair at the same time.

The Jerusalem fair will be held at the First Station complex. Activities for children will take place between 5:30pm-8pm with literary heroes "coming to life" in children's plays based on beloved children's stories.

The Tel Aviv fair will be held at Rabin Square, with a children's area open between 6pm-8pm offering arts workshops and rides. Children will also be able to enjoy a variety of plays at 6:40pm every day of the fair.

The Rishon Lezion fair will be held at the Rothschild Pedestrian Mall. Activities for children will be held between 5:30pm-8pm, with plays for children every day at 6:30pm, story time, arts workshops, musical performances, meetings with writers and more.

Adults can enjoy a Mediterranean musical evening dedicated to author Shmuel Yosef Agnon at the Rishon Lezion Museum on June 10; a meeting with author Dorit Rabinyan and historian and author Gadi Taub on June 11; and an evening of lectures and discussions on Israeli literature on June 15 with a lineup of Israeli writers, creators and musicians who will discuss their sources of inspiration.
Almost a third of Israelis don't read books
Data released ahead of the annual Hebrew Book Week by the Central Bureau of Statistics (CBS) show about 29 percent of adults in Israel don't read books at all.

The CBS survey was done in the years 2014-2015 as part of an international OECD study in 32 countries and included over 5,000 respondents aged 16-65.

The survey found that women read more than men: while 47% of women read books at least once a week, only about a third (34%) of men do the same. Among women, 22% said they did not read books at all, while 36% of men said the same.

A fifth of the general public read books every day, and about a fifth read books at least once a week but not every day.

The situation is worse among Israeli Arabs, with 49% of the Arab population not reading any books at all compared to 24% of the Jewish population. Twenty-three percent of Israeli Arabs said they read books at least once a week, compared to 44% among the Jewish population.

Among the 32 countries included in the OECD study, Israel was rated 15 with 40% of the population reading books at least one a week. Russia (44.9%), Germany (42.8%) and the Czech Republic (42.3%) all ranked higher. The highest rates of reading were found in Britain and New Zealand, where over half of people aged 16-65 read books at least once a week.

The Israel National Library also released data ahead of the Hebrew Book Week on publishing in Israel.

According to the National Library, some 7,300 books were published in 2016, 89% of them in Hebrew and 3% in Arabic. Almost 40% of commercial books were released in Israel by the big publishing houses, with 46% released by some 200 smaller publishers.

Among writers and authors, only 35% are women. In the ultra-Orthodox society, 48% of prose and children's literature writers are women, compared to 40% in the general population.