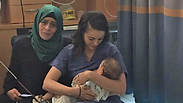 Nurse Ula Ostrowski-Zak with baby Yaman
'It was like nursing my own son'
When the relatives of a Palestinian baby whose mother was seriously injured in a road accident sought nurse Ula Ostrowski-Zak's help in finding someone to breastfeed him, she didn't think twice and offered to do it herself. Later on, she used Facebook to enlist dozens of other Jewish women who volunteered to hug the nine-month-old boy and care for his family. 'It was very natural and felt like the right thing to do,' she says.
Nurse Ula Ostrowski-Zak's Friday night shift at the Hadassah Ein Kerem Medical Center's Pediatric Emergency Room began like any other shift. When it ended, however, Ostrowski-Zak found herself caring for one of the patients in an unusual manner: The dedicated nurse gave life to a Palestinian baby, who had arrived at the hospital ward several hours earlier, by breastfeeding him.
Nine-month-old Yaman Abu Ramila had been evacuated from the scene of the fatal road accident his family was involved in. The family's car collided head-on with an armored bus on Highway 60, between the West Bank settlements of Efrat and Neve Daniel. The father was killed on the spot. The baby was injured along with his mother, who was holding him in her arms. She sustained a serious head injury and was rushed to Hadassah's Intensive Care Unit after being anesthetized and put on artificial respiration. Little Yaman arrived at the Pediatric ER.
Luckily, the little baby survived the difficult accident with only light injuries. At the Trauma Center, doctors diagnosed a skull fracture and some damage to his lungs. He received initial care, but then the medical staff encountered a problem: His unconscious mother was, of course, unable to nurse him and Yaman firmly refused to take a bottle. For seven hours, he wouldn't eat a thing and cried endlessly. His aunts were helpless.
"They asked me if I could help them find someone to breastfeed the baby," says Ostrowski-Zak. Without any hesitations, she immediately found a solution: She would do it. "After all, I'm here all night. It seemed like the simplest thing to do. I nursed him the entire shift, between caring for other children in the ward, five times throughout the night."
Ostrowski-Zak has three children of her own and is a staunch supporter of breastfeeding. In fact, she arrived at her life-saving profession as a result of her motherhood. She is former professional dancer with a master's degree and a qualified dance teacher. Her childbirth experience was engraved in her memory as significant and empowering event, which she attributes to the midwives at the delivery room and to the nurses at the maternity ward. Following the birth, she decided to make a surprising change in her career and become a midwife. But even in her wildest dreams, she never imagined that her motherhood and her profession would become intertwined in such a powerful way.
"It's important for me to advance and normalize the breastfeeding issue," says Ostrowski-Zak, who also serves as a lactation consultant. "The World Health Organization recommends continued breastfeeding up to two years of age, and I nurse my children beyond that age, so I had enough milk to nurse him too. It felt very natural."
How did he react to a strange woman breastfeeding him?
"I saw him relax and cling to me, and he calmly shut his eyes and fell asleep in my arms. I saw him look into my eyes and then devote himself in the most natural way possible. All he wants is his mother, or someone who will provide him with a direct connection."
What did his family say?
"His aunts hugged me and said thank you very much. They were really surprised and told me that they didn't know any Jewish women who would agree to nurse a Palestinian baby. I told them that any mother who breastfeeds would agree."
'We treat everyone here'
As her shift drew to an end, Ostrowski-Zak was concerned that there would be no one to nurse Yaman while she goes home. She decided to seek help at the La Leche League's Facebook page for breastfeeding mothers.

"Forgive me for this special request," she wrote in her post. "I hope this is the right place. Is there a mother from Jerusalem here, close to Hadassah Ein Kerem, who would be able to come and nurse a one-year-old baby this morning, from 7:30 am? This story has a difficult background: The child was injured in a road accident. His father was killed in the accident this evening. The boy refuses to take a bottle (we tried, unsuccessfully) and, according to the family, he is not a very big eater of solids in general. The absolute majority of his nutrition is based on breastfeeding and he has never agreed to take a bottle, certainly not now when he's injured. He arrived at the trauma center during the evening shift and refused to eat a thing for more than seven hours. I offered to nurse him, and his family was really happy. I nursed him at the beginning of the night shift and he fell asleep. I keep nursing him on demand while caring for other children. At dawn, I will have not slept for 24 hours, and I must get back to my own kids, so I won't be able to stay any longer."

Within a short while, she was shocked to receive countless comments and likes from women across the country, who offered to come to the hospital and help. Dozens of women, from Jerusalem and other places, volunteered without thinking twice to come and help the small baby.

"Within two hours, I received more than 1,000 likes and comments from women who volunteered to help," Ostrowski-Zak says. "There were volunteers who were even willing to travel all the way from Haifa to nurse him. In between, I kept trying to expose the child to a bottle, but to no avail. I was amazed by this enlistment of women, even some who don't breastfeed, who offered to come and hug him and help the family, which also has to care for the mother, who is hospitalized at the Intensive Care Unit."

In the meantime, another volunteer paid Yaman a visit at the ward and nursed him. other volunteers were put on standby.

Ostrowski-Zak sees the maternal enlistment to help the Palestinian baby as a perfectly natural thing, but she is surprised by people's preoccupation with the baby's identity. "Hadassah was established by a Zionist organization and everyone is treated here, and I'm saying this without a hint of cynicism. At the Trauma Center, there are situations in which we attend to a terrorist in one bed, while a person wounded in the terror attack is lying in the other bed. We provide treatment to whoever needs it urgently, and we give it to anyone, regardless of their sector. It was very natural and it felt like the right thing to do, and he just happened to be Palestinian. This baby underwent a serious trauma. It didn't feel any different from nursing my own son."
'She is like a sister to us'
The child's family is still very moved by the dedicated treatment the nine-month-old baby received at the hospital. Samer, his uncle, told Yedioth Ahronoth that the family members didn't feel like strangers for a minute throughout the entire treatment.
"Since he was born, the baby has gotten used to receiving milk from his mother, and he refused to take any milk substitutes that they had at the hospital. He began receiving milk from that Hadassah worker who volunteered to nurse him, and after her shift ended, a friend of hers came to the hospital with her children and nursed him voluntarily."
Samer asked us to relay the following message to Ostrowski-Zak: "I would like to tell her that she is like a sister to us. She volunteered at the most difficult moment to help a baby who needed his mother more than anything. A baby of that age needs warmth and love and everything he is used to. We would like to thank her from the bottom of our hearts for seeing a baby without caring about his descent."
Yaman's mother is still under anesthesia and on artificial respiration, but he is expected to be discharged from the hospital. He will stay at his grandparents' home in Hebron, where he will be nursed by his aunt.
On Sunday morning, Ostrowski-Zak arrived at the hospital, nursed Yaman again and met with his grandmother, who thanked her for the devoted treatment. "She told me that, according to Islam, after I have nursed him five times he is considered my son. So I have fulfilled my dream of having a fourth child," she says with a smile. "In the connection between a mother and a breastfed baby, there are no differences between human beings and it doesn't matter. My location on the political spectrum is irrelevant inside the hospital."