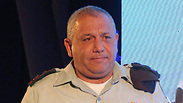 IDF chief Eisenkot
Photo: Motti Kimchi
Hezbollah remains one of the IDF's top priorities, Chief of Staff Lt. Gen. Gadi Eisenkot said Wednesday at an event in memory of soldiers killed in the 2006 Second Lebanon War.

"Hezbollah may be in a complex place, because it is fighting in Syria and suffering losses, but we can't ignore the fact the organization is also gaining combat experience," Eisenkot said.

He said Hezbollah has also been involved in the conflicts in Yemen and Iraq and has lost 1,700 of its men over the past three years.

"Hezbollah has close to 7,000 wounded and is facing quite a few problems in fighting as an organization trying to deploy battalions and bigger formations," Eisenkot explained.

The Lebanese terror group is also dealing with "serious financial issues, low morale, and the fact it lost two of its senior commanders in the last seven or eight years. One of them is Imad Mughniyeh, who was killed in Damascus, and a Hezbollah commander who was assassinated a year ago by his superiors—as far as we know."

The IDF, he said, was not underestimating Hezbollah. "The organization is facing a difficult reality, but we don't let it deceive us. We prioritize the northern front and Hezbollah on the top of the IDF's list. We have both defensive and offensive plans and we're at a high level of preparedness."