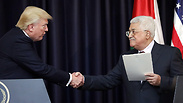 Trump and Abbas meet in Bethlehem
Photo: AFP
Aide: Abbas willing to temporarily shelve settlement freeze demand
'We have not made the settlements an up-front issue this time,' Mohammad Mustafa tells Bloomberg, adding the Palestinian president is also willing to tone down anti-Israel campaign at the UN and The Hague as part of efforts to restart peace talks.
Palestinian President Mahmoud Abbas is willing to temporarily shelve his demand to freeze settlement construction in the West Bank as a precondition for peace talks with Israel, his financial advisor Mohammad Mustafa told Bloomberg in an interview published on Thursday.

Abbas, Mustafa said, will also tone down his international campaign to take Israelis to The Hague for war crimes and promote resolutions at the UN condemning Israel.

"We have not made the settlements an up-front issue this time," Mustafa said. "We think it's better for all of us right now to focus on giving this new (American) administration a chance to deliver."

Mohammad Shtayyeh, another senior Abbas aide and a member of the policy making Central Committee in the Fatah party, told Bloomberg that US President Donald Trump gained the Palestinians' trust when he, like his predecessors, signed a temporary waiver to keep the US Embassy in Jerusalem.

"There is a new dynamic. The embassy issue is behind us," Shtayyeh said.

He claimed that "With this administration, the White House is engaged and that's a huge difference," but stressed, "That doesn't mean I'm optimistic."

After being encouraged by Trump's decision not to move the US Embassy to Jerusalem, Abbas has reportedly expressed to the Americans willingness to meet with Prime Minister Benjamin Netanyahu without preconditions and has shown willingness to restart peace talks.

Nevertheless, Palestinian officials have expressed concern in private conversations that the Americans are pushing too hard to resume negotiations without first studying the issue properly.