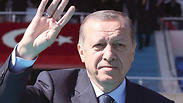 The Turkish president
Photo: AFP
Israel recently sent a harsh message to Turkey's ambassador to Israel, Kemal Ökem, for having hosted the leader of the northern branch of the Islamic Movement in Israel, Sheikh Raed Salah, at his home for an Iftar dinner at the end of the Ramadan fast last week.

Salah is known for his positions that deny the legitimacy of the State of Israel and its rights to the Temple Mount. He was previously sentenced to imprisonment for rioting and inciting to violence and racism. He is also considered the main rabble-rouser in Israel that fans the flames on the Temple Mount and is responsible for quite a few provocations at the holy site.

Ökem uploaded a picture of a group of Arab and Muslim leaders to the Turkish Embassy in Israel's Twitter account of an Iftar dinner at his home. Amongst the guests and alongside the ambassador was Salah. Political sources believe that the decision to invite Salah came from Ankara and not as a private initiative of the ambassador.

Salah's invitation to the ambassador's residence comes about a month after Turkish President Recep Tayyip Erdoğan said, "Every day that Jerusalem is under occupation is an insult to us."

The Foreign Ministry decided not to officially reprimand the Turkish ambassador and to make do with sending a message of its anger.

The Turkish ambassador rejected the criticism, claiming that it was a routine meeting parallel to a Jewish Shabbat dinner. "The intention was to send a message of peace and brotherhood to all peoples. We sent an invitation to a series of Muslim leaders on the occasion of the Iftar, and Sheikh Salah accepted the invitation."

Sources in Israel fear that, despite the ambassador's explanation, there is a new line on the part of Ankara, aimed at warming relations with the Islamic Movement and Hamas. This is also how Israel views a video produced by Turkish national television TRT.

The TRT video (Credit: TRT World)

The video presents the Israeli-Palestinian conflict in English and, according to the Foreign Ministry, adopts the Palestinian-Hamas narrative and presents Israel as the bad side of the conflict, as the aggressor, the occupier and the colonialist. According to them, the video even legitimizes the use of terrorism against the occupation.

Israeli Foreign Ministry spokesman Emanuel Nachshon tweeted a harsh response to the video: "(TRT World) at the service of deceitful Palestinian propaganda. Not really journalism."