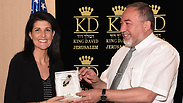 Lieberman meets with Haley
Photo: Defense Ministry
Saleh al-Arouri, a senior Hamas commander who was recently deported from Qatar, has moved to Lebanon and intends to launch terror attacks against Israel from there, Defense Minister Avigdor Lieberman told the visiting US Ambassador to the US Nikki Haley on Friday.

"Action must be taken to deport him from there," he told Haley.

He said Arouri was joined by two other Hamas members. "The three, led by Saleh al-Arouri, will continue trying to perpetrate terror attacks against Israel from Lebanon, while at the same time strengthen the ties between Hamas and Hezbollah. All of this will be done under Iranian auspicies and with aid from the Iranian Revolutionary Guard Corps and (IRGC command) Qasem Soleimani," Lieberman said.

Lieberman and Haley meet in Jerusalem (צילום: עדן מולדבסקי/משרד הביטחון)

Arouri, the defense minister added, "is a dangerous terrorist who was responsibile for some deadly Hamas terror attacks against Israel, and he must not be allowed to continue with his actions."

"Lebanon is a sovereign country that maintains ties with the United States," he continued. "Israel views Lebanon as responsible for what's happening in its territory and the terror attacks launched from there. That is why it is important for the United States to work with the Lebanese government to deport the three Hamas members and prevent the establishment of another terror base in its territory."

Arouri, who used to be in charge of Hamas prisoners in Israeli jail, has been operating from Turkey over the last few years and was the brains behind many terror attacks, mostly in the West Bank. He remained on Israel's watch list after moving to Qatar as well.

Contrary to Lieberman's claims, however, inside sources say Arouri moved to Malaysia, while other Hamas members headed to Lebanon and Turkey.

Lieberman and Haley, who met in Jerusalem, discussed several other security and diplomatic issues, including the fight against terrorism and combatting attempts to delegitimize Israel. They also discussed further cooperation between the US and Israel at the United Nations.

Lieberman also asked for Haley's help in returning to Israel the bodies of IDF soldiers Oron Shaul and Hadar Goldin, who were killed during the 2014 Operation Protective Edge in Gaza and whose remains are being held by Hamas, as well as of two living Israeli citizens, Abera Mengistu and Hisham al-Sayed, who entered the Gaza Strip of their own accord and are believed to be held captive by Hamas.

They further discussed the salaries the Palestinian Authority pays terrorists imprisoned in Israel and families of terrorists killed after attacking Israelis and Lieberman even presented Haley with a list of American citizens murdered in Israel by Palestinian terrorists.

Lieberman also gave Haley a unique gift—a statuette of a high-heeled shoe, in reference to a comment Haley made when she was first appointed ambassador to the UN, saying "I wear high heels, it's not for a fashion statement, it's because if I see something wrong I will kick it every single time."

Meanwhile, a Hamas delegation headed by leader Ismail Haniyeh is expected to make a visit to Tehran in the near future, senior Hamas member Osama Hamdan said Friday. The delegation will also visit other countries.

Such a visit is unusual and indicates a warming of Hamas-Iran ties, which suffered when Hamas declared its support to the rebels trying to topple Syrian President Bashar Assad, Tehran's ally.