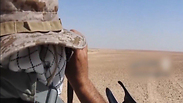 Syrian army reaches Iraqi border, warns against US interference
The first units of the Syrian army and of President Bashar al-Assad's allies arrived at the border with Iraq for the first time since the outbreak of the civil war more than six years ago; pro-Assad alliance threatens to hit US positions in Syria; 'self-restraint' over US air strikes will end if they cross 'red lines.'
Syrian troops and allied militia in the southeast Syrian desert reached the Iraqi border on Friday, near the Tanf base where US special forces train local rebels to fight ISIS, a pro-government commander said.

The advance follows an escalation of tensions between the United States and the Syrian government with its backers over control of the southeastern frontier with Iraq.

"The first units of the army and its allies arrived to the Syrian-Iraqi border northeast of al-Tanf," said the non-Syrian commander in a military alliance fighting in support of President Bashar al-Assad.

The area is seen as crucial to Assad's Iranian allies and could open an overland supply route from Tehran to Iraq, Syria and Lebanon—a major concern to US allies in the region.

A range of Iranian-backed militias from the region, including the Lebanese Hezbollah group, have supported the Syrian government in the six-year war against rebel groups.

The Tanf base lies in the Syrian Badia, a vast sparsely populated desert territory that stretches to the Jordanian and Iraqi borders. Damascus has declared the Badia region a military priority.

Syrian army at the border with Iraq

Months of advances by US-backed rebels against ISIS have allowed them to secure swathes of territory in the Badia, alarming the Syrian government and its allies.

The Americans had blocked them through rebel groups in the area, the commander said, so the Syrian army and allied forces opened a new route and pressed on to the border.

"It's a message to everyone," he said without elaborating.

The pro-Assad alliance had threatened this week to hit US positions in Syria, warning that "self-restraint" over American air strikes would end if Washington crossed "red lines."

The US launched air strikes on Tuesday against pro-government forces that it said posed a threat to American forces and the Syrian rebel groups they support in the area, the second such strike in recent weeks.

Hezbollah's al-Manar television channel said on Friday the army and its allies had "expanded their area of control" in the Badia.

The Syrian Observatory for Human Rights, a Britain-based war monitoring group, said dozens of soldiers and pro-government forces had arrived at the border.

They reached a point nearly 50 km north of al-Tanf, after going through the desert around the area held by US-backed rebels, it said.