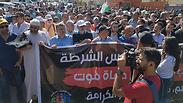 Thousands protest police inaction, violence in Kafr Qasim
Thousands take to the streets of Kafr Qasim to criticize the police for the death of Muhammad Taha and the failure to rein in rampant crime and violence in the village; MK Zahalka: 'Alsheikh and Erdan failed to deal with the growing crime in Arab society and they need to resign. The police are abandoning Arab citizens to criminal organizations.'
Some 1,700 Arabs and Jews demonstrated Saturday in Kfar Qasim in solidarity with the Taha family, whose son Muhammad was shot dead by a civilian security guard during the riots that took place there on Monday.

Demonstrators carried signs and shouted slogans condemning violence and the conduct of police. Recent murders in the city have claimed the lives of six residents in the last two months, while police have made no arrests nor identified suspects.

Demonstrators in Kafr Qasim

Ahmed Sarsour, a resident of Kafr Qasim, described the situation in the city, saying, "It is tense, there is anger. The police continue to arrest people in the late hours of the night. The police need to stop these vengeful methods that they're using. It's bad enough that they were part of the murder of the martyr, the hero Muhammad Taha. Where were all these police forces roaming the city when the recent murders were happening?"

Mayor of Kafr Qasim, Adel Badir, said, "The criminals will not deter us. We will continue the struggle against them, until we see a change that can provide us with a quiet life. I say to the police, you are either fighting with us against the criminals, or you will have to admit you're incapable."

MK Issawi Frej (Meretz) said that vigilance in the city can provide security to residents, saying, "From decades of experience we have seen that they can protect Kfar Kassem from many phenomena that disturb the residents. We oppose crime and criminals. We will not let harm pass us in silence."

MK Jamal Zahalka (Joint List), said, "Alsheikh and Erdan failed to deal with the growing crime in Arab society and they need to resign. The police are abandoning Arab citizens to criminal organizations. There is no justice and no judge. The police know how to deal with organized crime and did it very well in the Jewish cities. It actually caused the prosperity of the Arab criminal organizations, which benefited from the elimination of their competitors and the disappearance of the police surveillance."

Zahalka added, "Citizens in Israel who feel that the police are not protecting them will look for ways to defend themselves, and that could create chaos. Crime in Arab society is not only a problem for the Arabs. All citizens will pay the price of racial discrimination when it comes to dealing with crime."